DMAE, or 2-dimethylaminoethanol, is a chemical substance used most often for improving alertness and mental clarity. Similar to many other mind or mood-altering substances, DMAE may work by increasing the production of a neurotransmitter. This substance has been studied for its potential to treat attention deficit hyperactive disorder, Alzheimer's disease, Huntington's disease and other conditions. However, there is no solid evidence that DMAE is effective for any of these purposes.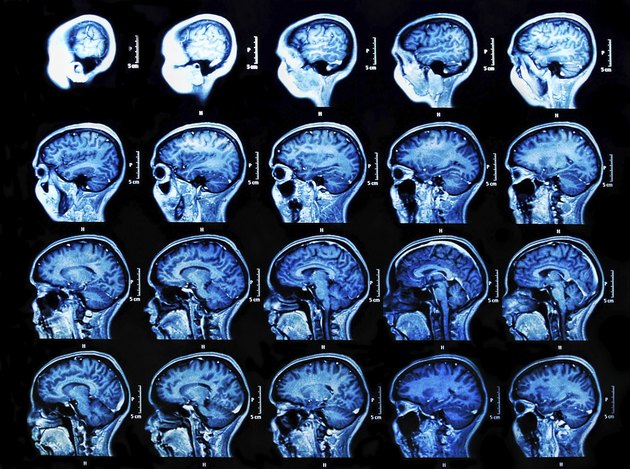 Mental Functioning
DMAE is thought to work by increasing the body's supply of acetylcholine -- a neurotransmitter thought to improve mental function, memory and mood. NYU Langone Medical Center notes that while there is no proof that DMAE can improve mental functioning, some evidence shows that it may be useful for treating mental impairment. One study published in 2009 in "Psychopharmacology" found that DMAE may be useful in reducing memory deficits in people with cognitive impairment.
ADHD
According to NYU Langone Medical Center, DMAE has been studied in the past for ADHD with positive results. Participants in various trials saw significant improvements in ADHD symptoms compared to a placebo, and some data showed that DMAE worked as well as another well-known ADHD drug. However, all of the research regarding this use is dated back to the 1970s and no recent trials show that DMAE is useful for ADHD.
Antioxidant and Anti-Aging
Outside of its potential to improve mental function, DMAE has the ability to scavenge specific types of free radicals, reports a 2012 paper published in "Drug Metabolism Letters." These antioxidant effects could make DMAE a useful supplement for promoting general health. The study authors note that DMAE has been reported to have anti-aging effects, which are also likely related to its antioxidant properties.
Safety
NYU Langone Medical Center notes that DMAE is normally side-effect-free, although some researchers suggest using this supplement with caution due to certain side effects seen in clinical trials, including drowsiness, elevated blood pressure, confusion, headaches, weight loss and insomnia. Some manufacturers also recommend that those with epilepsy or a history of seizures avoid DMAE. Maximum safe doses for DMAE have not been established, so it is important to always follow the manufacturer's suggested dosage.