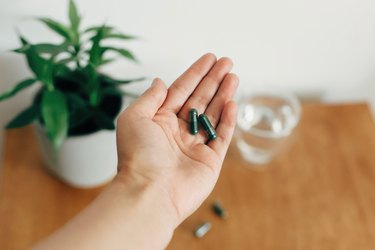 You might have heard ginkgo biloba can lower blood pressure or increase blood flow and been interested in trying it. If so, know there is no significant evidence ginkgo biloba improves blood pressure — and, if you're on BP medications, experts say you should actually avoid it.
Ginkgo Biloba and Blood Pressure
Ginkgo biloba (or simply ginkgo) — a species of tree — is known for being one of the top-selling herbal supplements in the United States and Europe, according to Mount Sinai.
And while ginkgo has been used to treat heart disease and high blood pressure, research to date does not support its effectiveness, according to the University of Michigan Health System (UMHS).
Moreover, while there is no significant evidence to show ginkgo biloba has a meaningful effect on blood pressure, it may actually cause problems for those controlling their BP with meds, says New York-based Guy L. Mintz, MD, FACC, director of Cardiovascular Health and Lipidology of Cardiology at North Shore University Hospital.
Avoiding Ginkgo on Hypertensive Meds
While there's no strong evidence to prove ginkgo directly lowers BP, "small studies have shown ginkgo sometimes can have a slight reduction in blood pressure," says Dr. Mintz says, also a clinical associate professor in the Donald and Barbara Zucker School of Medicine at Hofstra/Northwell. "So this supplement should be avoided in patients already on antihypertensive medications — especially in [older] patients who may be using this supplement for memory loss or Alzheimer's disease."
Per Mount Sinai, taking ginkgo supplements with blood pressure medication may cause blood pressure to drop too far.
There have been reports of adverse interactions between ginkgo and nifedipine (Procardia), a calcium channel blocker used to treat heart rhythm problems as well as high blood pressure, according to Mount Sinai.
The UMHS cautions against taking ginkgo if you are taking blood pressure medication, unless recommended specifically by your doctor.
Other Ginkgo Risk Factors
Beyond your blood pressure, if you're taking ginkgo and have a surgery scheduled, you'll need to stop.
"Use of ginkgo is associated with an increased risk of bleeding, and if patients are using this supplement, it should be stopped at least one week prior to surgery," Dr. Mintz says.
And with the bleeding risk, he says "extreme caution also should be taken in patients" on the following:
High doses of ginkgo biloba can also interfere with the effectiveness of seizure medications (anticonvulsants), including carbamazepine (Tegretol) and valproic acid (Depakote), Dr. Mintz says.
You'll also likely want to avoid ginkgo, unless advised otherwise by your doctor, if you are taking medication for any of the following, per the UMHS:
Any type of infection (HIV, malaria or tuberculosis)
Anxiety, depression
Asthma or allergies
Cancer
Erectile dysfunction
Heartburn or GERD
High cholesterol or other heart conditions
Psoriasis, rheumatoid arthritis, other autoimmune disorders
Psychiatric disorders
The Bottom Link
Though there have been many studies looking at potential health benefits of ginkgo in humans, there is yet to be conclusive evidence it can help or benefit any health condition, according to the NCCIH.
So you shouldn't take ginkgo in place of prescribed medication — and it's always best to consult your doctor first.
Is this an emergency? If you are experiencing serious medical symptoms, please see the National Library of Medicine's list of signs you need emergency medical attention or call 911.