Water keeps the body moist and hydrated and helps ensure that all body systems function properly. Every day, a person needs to consume enough water to replace what is lost through breathing, sweating and excretion of waste. Many different factors help determine how many ounces of water a person should drink in one day.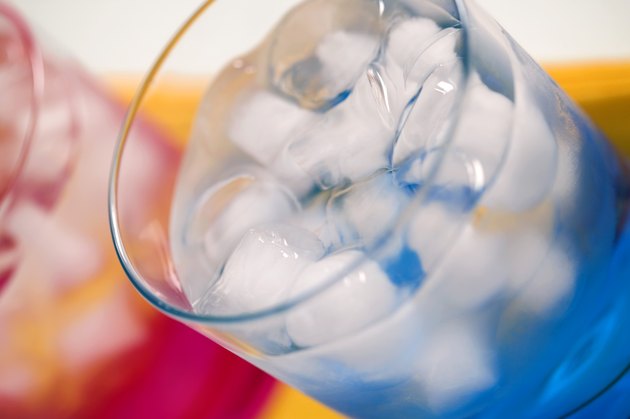 Amount
The oft-quoted standard recommendation for how much water a person should drink in one day is at least 8 cups, or 64 ounces, according to a 2009 article published online in "Scientific American," but the actual amount required varies from individual to individual. Another guideline, from Clemson University Extension, is to drink 1 quart, or 32 ounces, of water for every 50 pounds of body weight. Factors such as diet, exercise habits and health status all affect the amount of water a person actually needs to drink in a day.
Sources
Tap water, bottled water and other fluids supply most of the water the body needs, but many foods also contain significant amounts of water and can contribute to an individual's daily requirement. Very watery foods, such as yogurt and fresh fruits and vegetables, such as watermelon, tomatoes and lettuce, contribute a significant amount of water to the diet. Milk, fruit juices, vegetable juices and other non-alcoholic and non-caffeinated beverages are also good sources of water. A person who eats a lot of watery foods doesn't have to drink as many fluids to get enough water.
Significance
No one can live more than a few days without water because every organ in the body and every bodily function depends on water. Blood and muscle tissue are made mostly of water. Water helps the body maintain a normal temperature, protects joints and carries oxygen and nutrients in the blood to cells throughout the entire body.
Recommendations
The 2005 U.S. Dietary Guidelines Advisory Committee concluded that typical drinking of fluids, especially at meals, and a normal response to the sensation of thirst, are enough to ensure that most people will stay sufficiently hydrated. While there is no official recommendation for how many ounces of water a person should drink each day, the U.S. Department of Agriculture establishes Adequate Intake (AI) amounts to be used as guidelines. The AI for women ages 19 and above is 2.7 liters or about 91 ounces a day; for men ages 19 and above, 3.7 liters or about 125 ounces a day. These figures include water from both food and beverages.
Considerations
Some people, such as infants, young children, seniors, outdoor workers and athletes, are especially prone to dehydration, according to University of Nebraska-Lincoln Extension, and must have their water intake monitored more carefully than others. To stay properly hydrated, these groups need to drink water frequently throughout the day. People of all ages who engage in outdoor physical activities, particularly in warm climates, usually need to drink more water than others.