The calves are the fleshy areas in the back of the lower legs below the knees. The upper part of this muscle group is known as the gastrocnemius and the lower part is the soleus. Both sections are responsible for plantar flexion, which causes your toes to point downward. The gastroc is also involved with knee flexion. If you are at home and you want to get bigger calves, you need to rely on creativity and body weight.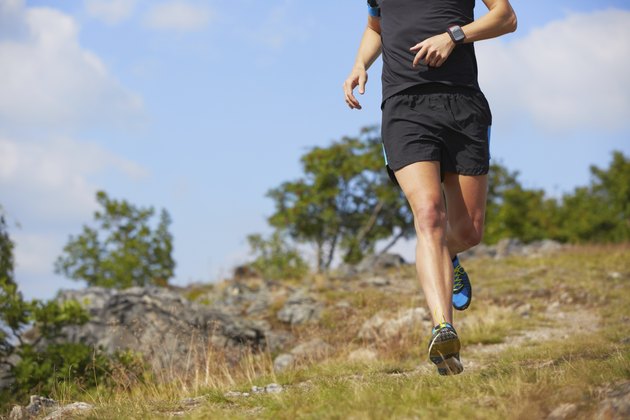 Step 1
Position your toes on a step to do calf raises. If you do not have steps in your house, use a stack of hardcover books. Position your feet shoulder-width apart with your heels hanging over the edge. Lift up onto your tips toes and hold for a full second. Lower your heels down slowly until your feet are in an upward angle. Hold this position for a full second and repeat. Hold full gallon water jugs in your hands to increase the resistance.
Step 2
Execute single foot calf raises to increase the challenge. Stand on the floor with your feet together. Lift your left foot and place the top of it around your right calf. Lift up onto your tip toes, hold for a second and lower yourself back down. Perform a set of reps and switch sides. Progress yourself to the step when you are able to do the floor version easily. Hold a water jug in your hand to increase the resistance and lightly place your other hand on a chair or against a wall to balance yourself if you need to.
Step 3
Sit in a chair to isolate your soleus. The soleus gets activated most when your knees are bent. Hold the water jugs on top of your thighs and raise your heels off the floor. Squeeze for a second, lower your heels and repeat. Increase the range of motion by placing your toes on books.
Step 4
Turn your toes out to work your outer calves. Stand with your feet hip-width apart and your toes pointing out 45 degrees. Lift up onto your tip toes, lower yourself down and repeat. Perform calf raises with your toes pointing in to target the inside of your calves.
Step 5
Perform a variation of a chair pose to work your calves isometrically. Stand with your feet together and lower yourself into a half squat. Raise your arms straight above your head and lift your heels off the floor. Hold this position for 45 to 60 seconds.
Step 6
Run up hills to work your calf muscles. Find a nearby hill that is approximately 100 yards long. Jog for 5 minutes on flat ground to warm up then come to the bottom of the hill. Run to the top, jog back down, and then run back to the top. Repeat 8 to 12 times. Run at a slow pace up the hill to really engage your calf muscles.
Things You'll Need
Stair step

Hardcover books

2 water jugs
Tip
Work your calf muscles three times a week on alternating days. Perform 15 to 25 repetitions and four to five sets except for chair poses and hill runs.