According to Drs. Michael Camilleri, M.D. and Joseph A. Murray, M.D. in the 2008 edition of "Harrison's Principles of Internal Medicine," chronic constipation afflicts nearly 20 percent of American adults. Together with chronic diarrhea, it represents one of the most common complaints encountered by primary care physicians and gastroenterologists. Treatment typically starts with lifestyle change, medication and behavioral training such as biofeedback. If these fail, invasive procedures may become necessary to get relief.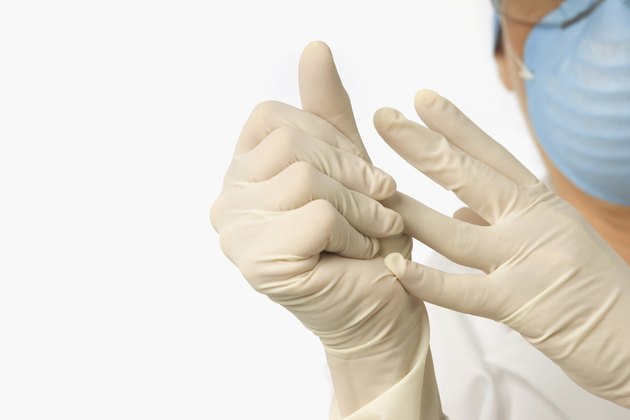 Digital Rectal Stimulation
Digital rectal stimulation often provides safe and effective constipation relief, with the advantage that it can be performed at home by untrained personnel. The basic technique involves gentle insertion of a gloved, lubricated finger--or for babies and young children, a lubricated metal or plastic thermometer or cotton swab--into the constipated person's rectum. For an adult, insert the full length of the finger, with the pads of the finger initially facing in the direction of the patient's spine. Slowly and gently rotate the finger until the pad of the finger faces the belly button and the procedure is often repeated several times. According to surgeons Ahmed Shafik, M.D., Ph.D. and Olfat El-Sibai, M.D., Ph.D., digital rectal stimulation works three ways: by relaxing the anal sphincter, decreasing the acuity of the angle between the rectum and the anus and promoting the contraction of the smooth muscle of the colon. In some cases, especially infants and elderly people, a physician may recommend digital rectal stimulation before medications because of the risk of medication side effects.
Sacral Nerve Stimulation
Sacral nerve stimulation entails the surgical implantation of a small device beneath the skin on the upper portion of the buttocks. In a 2010 update to "Harrison's Principles of Internal Medicine," Harvard Medical School professor Kurt J. Isselbacher, M.D., explains how the incidental finding of the resolution of co-incident constipation among patients undergoing sacral nerve stimulation for the treatment of urinary voiding disorders led investigators at the University of Melbourne to test the effectiveness of the procedure among patients with constipation resistant to medications and lifestyle change. According to Dr. Isselbach, the investigators reported impressive improvements in the frequency of defecation, straining, the sensation of incomplete evacuation and overall quality of life with a relatively low incidence of complications
Surgery
Surgery represents the last resort for relief of constipation that fails to respond to other measures. The accepted surgical procedure, explain Camillari and Murray, entails removal of the colon, called a colectomy, and attachment of the lower portion of the small intestine to the rectum, called an ileorectostomy. Common complications include obstruction of the small intestine by scar tissue, frequent--8 to 10 per day--bowel movements and nighttime fecal soiling, especially during the first year after surgery. In many cases, surgery isn't considered in the absence of a dangerous and potentially life-threatening dilatation of the colon and rectum, conditions known as megacolon and megarectum.