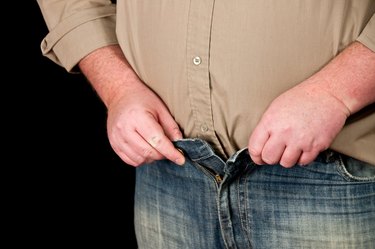 Gastric bypass surgery involves modifying your stomach so that it holds less food, which helps you feel full while eating fewer calories. Following this procedure, you gradually move through phases of a post-surgery meal plan before eating solid food. Because your stomach is not the same size as before surgery, your daily calorie intake decreases. Your physician provides instructions for you to follow regarding your post-gastric bypass meal plan and calorie goals.
Calories for the First Six Months
Immediately after surgery, your doctor will place you on a liquid meal plan, which helps your stomach heal from surgery. You gradually progress to pureed and soft foods before eating solid foods and establishing a normal bariatric meal plan. Once you're able to eat solid foods, the typical gastric bypass meal plan for the first six months consists of three small meals and two snacks for a total of between 1,000 and 1,300 calories per day.
Calorie Breakdown
The goal of your post-surgery meal plan is to get enough nutrients while adjusting to the smaller size of your stomach. Aim to balance each meal with protein and vegetables or fruit and get at about 50 grams of protein daily. If you're following a 1,000- to 1,300-calorie post-surgery meal plan a good goal is to have two snacks contain 100 to 150 calories each. Based on the calorie range of this plan, your three main meals contain roughly 250 to 350 calories each.
Calories During Maintenance Phase
After the first six month, you'll move to the maintenance bariatric plan, which provides a small bump in calories. On the maintenance plan it's common to have three small meals and at least one snack. You still aim for balanced meals, but you have a bit more calories to work with. You'll also aim for 60 grams of protein each day and stick with meals low in fat and sugar. The total calorie intake during the maintenance stage is typically between 1,300 and 1,500, according to Highland Hospital Bariatric Center.
Typical Maintenance Menu
One cup of high-fiber cereal with 8 ounces of milk and one banana for breakfast is the type of breakfast you can expect to eat on the maintenance diet. Yogurt provides a good snack on this plan. For lunch you could have a tuna sandwich consisting of 3 ounces of tuna with a slice of low-fat cheese and tomato on whole-wheat bread, along with some baby carrots. The type of dinner you can expect to eat is 3 ounces of chicken with 1/2 cup of brown rice and 1 to 2 cups of broccoli.