Appendicitis, or inflammation of your appendix, is the most common condition of the abdomen that requires emergency surgery, according to Johns Hopkins Medicine, which doesn't give you much time to plan or think about how it might affect what you eat. Your appendix does not play a major role in digestion, so you may not need to make major changes to your diet. However, immediately following your surgery, you may need to avoid certain foods to limit abdominal pain and ease digestion. Talk to your doctor about your diet needs after surgery.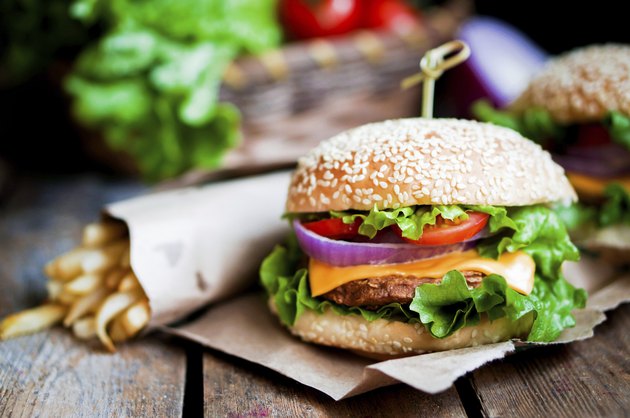 Go Easy on Solids
After abdominal surgery, you may have a difficult time digesting regular food, and your doctor may suggest you follow a full liquid diet, which is made up of liquids and foods that turn to liquid at room temperature. On the liquid diet, you need to avoid solid, or regular, food. That includes whole fruits and vegetables, meats, poultry, fish, eggs, beans, bread, cold cereal, rice, pasta, nuts and seeds, or any food that requires chewing. Your doctor determines when it's safe for you to start eating regular food after your surgery.
Avoid Fatty Foods
Even if your doctor has given you the OK for regular foods, you may still need to limit your intake of fat. High-fat foods are difficult to digest, and if you eat them when your digestive system is trying to recover from surgery, you may get diarrhea. To limit the fat in your diet, avoid fried foods, cream, full-fat cheese, whole milk, chocolate, cake, cookies, ice cream and foods prepared with added fats such as butter or oil.
Don't Eat Too Much Sugar
You should also avoid foods high in sugar after gastrointestinal surgery, according to GIST International Support. High-sugar foods include soda, candy, jelly, cake, ice cream and sweeteners such as sugar or honey. Although not necessarily related to your surgery, too much sugar may cause stool to pass too quickly through your large intestines and lead to diarrhea.
Easing Into a Healthy Diet
Once you're on the road to recovery, eat a healthy diet rich in nutrients that promote healing and prevent infection, such as eggs for protein and zinc and peppers for vitamin C. Include foods rich in fiber to prevent constipation. Eating fruit, vegetables, whole grains, beans, nuts and seeds can help increase your daily fiber intake so you meet your needs, which range from 20 to 35 grams of fiber a day.