When you smoke a cigarette indoors, you expose yourself and everyone around you to secondhand smoke, thirdhand smoke and an increased risk of fire. Secondhand smoke includes smoke from the end of the burning cigarette, called sidestream smoke, and smoke exhaled by the smoker, called mainstream smoke. Thirdhand smoke is the name given to the toxic particles from cigarette smoke that settle onto surfaces in your home and remain long after smoking has ceased. Passive exposure to smoke poses health risks to you and everyone around you, while smoking-related fires kill and injure hundreds of people each year.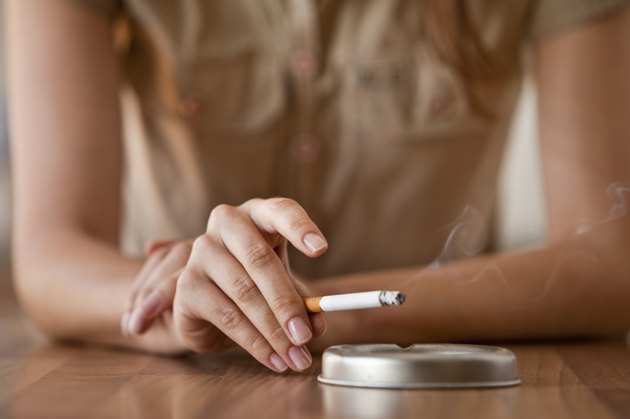 Cancer
While all secondhand cigarette smoke contains toxic chemicals, the American Cancer Society says sidestream smoke contains smaller particles than mainstream smoke. Because of their smaller size, these particles can more easily enter the lungs and cells of anyone who breathes in the smoke from your cigarette. Children and non-smoking adults exposed to secondhand smoke have an increased risk of lung cancer, and possibly cancers of the breast, lymphatic system, blood, larynx, throat, sinuses, brain, bladder, rectum and stomach. Dust samples taken from the homes of smokers contain tobacco-specific carcinogens, making thirdhand smoke a possible risk factor for cancer as well.
Cardiovascular Disease
Exposure to tobacco smoke is a major risk factor for cardiovascular disease. The Merck Manual for Health Care Professionals says that, while the risk is less for people exposed to secondhand smoke as compared to active smokers, the increased risk still exists. For example, non-smoking spouses have a 20- to 30-percent increased risk of coronary artery disease. The American Cancer Society says as many as 42,000 non-smokers die annually from cardiovascular disease due to exposure to secondhand smoke.
Respiratory Disease
Lung cancer isn't the only way the lungs are affected by exposure to tobacco smoke. Exposure to secondhand smoke is a risk factor for chronic obstructive pulmonary diseases, such as emphysema and chronic bronchitis. Pneumonia is also more common, and tobacco smoke can trigger attacks in children and adults who have asthma. The Merck Manual for Health Care Professionals says children exposed to cigarette smoke get sick easier and miss more school than children who are not exposed.
Sudden Infant Death Syndrome
Sudden infant death syndrome, or SIDS, kills approximately 2,200 infants annually in the U.S. Among the risk factors are exposure to tobacco smoke while in the womb, whether from a mother who smoked or a mother who was exposed to secondhand smoke, and exposure to secondhand smoke as an infant. The Family Practice Notebook says 61 percent of SIDS deaths are associated with parental smoking. Secondhand smoke also increases the risk of problems with pregnancy such as stillborn births, low birth weights and difficulties during delivery.
Fire
The U.S. Fire Administration, a division of the Federal Emergency Management Agency, says home fires caused by smoking materials kill almost 1,000 smokers and non-smokers annually in the U.S. One in 4 killed was not the smoker, and more than one-third of those were children of the smoker. For the health and safety of yourself and your loved ones, stop smoking, but if you must smoke, take it outdoors.
Is This an Emergency?
If you are experiencing serious medical symptoms, seek emergency treatment immediately.