The medical definition of anxiety, as noted by psychiatrist Neel Burton, writing for Psychology Today, is "anxiety is a state consisting of psychological and physical symptoms that are brought about by a sense of apprehension at a perceived threat." Your self-confidence may be markedly low when you are anxious, making you doubt your abilities to complete tasks. Learn to build your self-confidence and eliminate the anxiety that plagues you.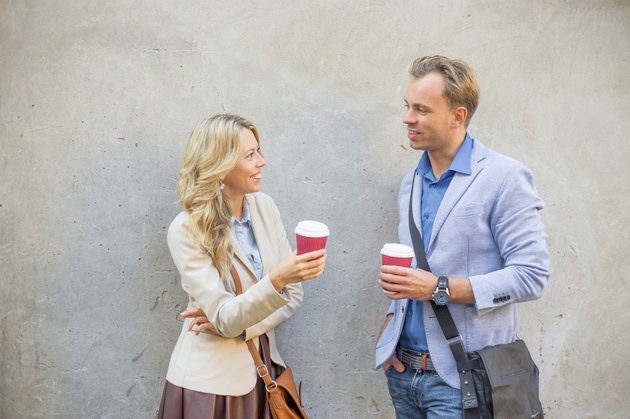 Step 1
Give yourself opportunities to succeed and achieve. Take baby steps in the beginning. For example, set a small goal such as meeting one new person every two weeks. Congratulate yourself each time you meet this objective.
Step 2
Practice how to handle intimidating situations you face in real life. You may, for example, habitually back down in the face of a pushy co-worker, but you can plan a way to handle the next encounter differently. Plan to speak firmly to him and express your viewpoint without giving in to him. Resolve to do this the next time he confronts you in a negative manner.
Step 3
Improve your posture to improve your outlook. According to a 2009 study, conducted by Pablo Brinol, Richard E. Petty and Benjamin, titled "Body Posture Effects on self-evaluation: A Self-validation Approach," published in the European Journal of Social Psychology, good posture can have a positive effect on the way you feel about yourself. Stand up straight, keep your shoulders back and your chin up even when you are anxious. Your mind will learn to follow these positive body cues, causing your self-confidence to rise.
Step 4
Explore something new that interests you. If a new activity encourages anxiety, tell yourself you will do it despite the worry you feel. Push yourself to start the new task, hobby, class or social interaction, and you will find your anxiety lessens each time you make yourself go through with it.
Step 5
Speak to yourself in a positive manner. Negative self-talk results in anxiety and low confidence levels. Remind yourself how valuable you are to others. Make a habit of listing your virtues to yourself. Tell yourself repeatedly that you are worthy of life and all it holds.
Step 6
Solicit your family and anyone else close to you to be your support group. Let them aid you in your efforts to build confidence by listening to you, offering constructive advice, praising your efforts and holding you responsible for working on your confidence issues.
Step 7
Build relationships with co-workers and others. Enlarge your circle of friends. Those who are not confident generally have only a few close friends, while those with high self-confidence know and maintain relationships with many people.
Step 8
Exercise your body. Get outdoors and walk, bike, play ball or throw the dog a Frisbee. You will be happier and feel less stress due to the positive effects of natural sunlight and increased endorphin production in your brain. Endorphins act as a natural painkiller, notes the Anxiety and Depression Association of America website, which help to reduce stress and minimize anxiety.
Tip
Avoid procrastinating. Putting things off will only make you more tense and worried.
Warning
Consult a physician or psychiatrist if you feel overwhelmed by your anxiety. You may be suffering from a mental illness. The National Institute of Mental Health recognizes many anxiety disorders and indicates these may be treated through medication and cognitive behavioral therapy.