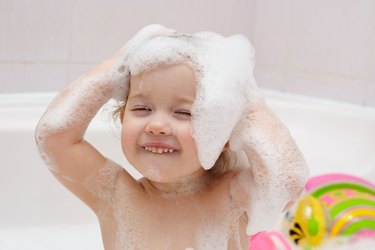 A common ingredient in personal care products, sodium lauryl sulfate, or SLS, is an additive that allows cleansing products to foam. According to the Environmental Working Group's Skin Deep Cosmetic Safety Database, SLS is a "moderate hazard" that has been linked to cancer, neurotoxicity, organ toxicity, skin irritation and endocrine disruption.
Definition
SLS is an emulsifier and foaming agent commonly used in cosmetic products and industrial cleaners. SLS is present in most body washes, soaps, shampoos, toothpastes and laundry detergent. According to Mercola.com, although SLS is derived from coconuts, it is contaminated with a toxic byproduct during the manufacturing process.
Variations
SLS may also be listed as sodium dodecyl sulfate, sulfuric acid, monododecyl ester, sodium salt, sodium salt sulfuric acid, sodium dodecyl sulfate, aquarex me or aquarex methyl, reports the EWG.
Related chemicals include sodium laureth sulfate, or SLES, which has a higher foaming ability and is slightly less irritating than SLS, according to Mercola.com. Ammonium lauryl sulfate, or ALS, is similar to SLS and poses similar risks.
Toxicity
The Cosmetic Ingredient Review reports that SLS, SLES and ALS are irritants at concentrations of 2 percent or greater, and recommends that cosmetic products should not contain concentrations greater than 1 percent. Undiluted SLS can cause skin and eye irritation, as well as nausea, vomiting and diarrhea if ingested, according to the National Institute for Occupational Safety and Health.
Mercola.com reports that SLS and SLES are often contaminated with 1,4 dioxane, a byproduct of the manufacturing process that is "possibly carcinogenic to humans" and may also cause negatives effects in the kidneys, liver and central nervous system, according to the National Institute for Occupational Safety and Health.
Considerations
According to Mercola.com, most studies conducted on SLS involve feeding pure SLS to animals or applying it directly to their eyes. Exposure of this sort is not ordinarily experienced through normal cosmetic use. However, studies involving the long-term cumulative effects of continued SLS exposure are lacking. Since your body lacks the enzymes needed to break down certain chemicals, allowing them to accumulate over time, consumer advocacy groups such as the EWG advise using SLS-containing products with caution.
Alternatives
If you are concerned about the possible effects of SLS accumulation, look for shampoos, toothpastes and other personal care products marked "SLS free." According to Mother Nature Network, a related product known as sodium coco sulfate, which is also a coconut derivative, may be less irritating than SLS or SLES. Look for shampoos made with essential oils, or wash your hair with baking soda.