Psychiatrists prescribe both Paxil, or paroxetine hydrochloride, and Wellbutrin, or bupropion, to treat depression. Paxil is also approved to treat obsessive compulsive disorder, panic disorder, generalized anxiety disorder, social anxiety disorder and posttraumatic stress disorder. Paxil and Wellbutrin belong to different classes of medications and, therefore, work differently and have different side effects. Understanding the possible risks and side effects of both drugs can help determine appropriate treatment choices.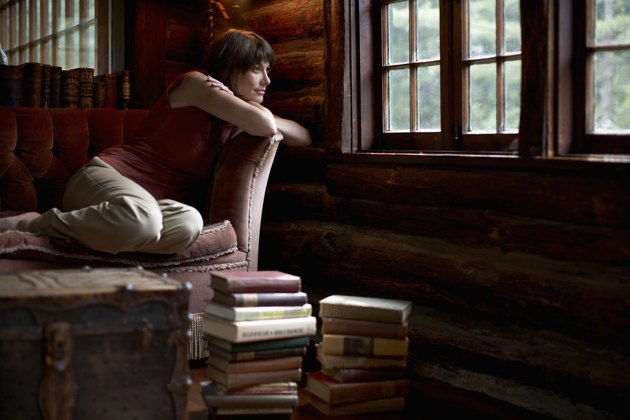 Function
Paxil is a selective serotonin reuptake inhibitor, or SSRI. This type of antidepressant treats depression by increasing serotonin levels in the brain. Normally, when small amounts of serotonin remain in the gap between nerve cells, a reuptake process reabsorbs it very efficiently. SSRIs block this reuptake process, so that more serotonin is available in the brain. Wellbutrin is a norepinephrine and dopamine reuptake inhibitor, and is the only U.S. Food and Drug Administration approved drug in its class. It does not affect serotonin at all, and instead inhibits the reuptake of norepinephrine and dopamine, therefore, increasing the levels of these two neurotransmitters in the brain.
Paxil Common Side Effects
Gastrointestinal complaints are the most commonly reported side effects in patients taking Paxil. According to RxList, more than one-fourth of patients report nausea, and a significant number report other gastrointestinal disturbances. Paxil also poses a very high risk of sexual side effects, with up to 28 percent of patients reporting at least one type of sexual side effect. These include decreased libido, ejaculatory disturbance, orgasmic disturbance and impotence. A notable number of patients report experiencing headache and sleepiness, as well.
Wellbutrin Common Side Effects
Common Wellbutrin side effects include agitation, dizziness and insomnia. Like with Paxil, a significant amount of patients report various gastrointestinal complaints such as nausea, constipation and diminished appetite. Headache and excessive sweating also occur in a notable number of patients. The other most common side effects when taking Wellbutrin are dry mouth and tremor.
Paxil Rare Side Effects
Cardiovascular events of any kind are rare but noted in patients taking Paxil. These can include palpitations and vasodilation. According to RxList about 2 percent of patients reported a "drugged feeling." Another relatively rare side effect is nervousness or agitation. Patients occasionally report blurred vision, a compelling need to yawn, and changes in the sense of taste.
Wellbutrin Rare Side Effects
Sexual side effects are very rare, but do occur in patients taking Wellbutrin. Changes in urination frequency are also reported, as are menstrual complaints. Cardiovascular side effects rarely occur, but can include irregular heart rate and blood pressure changes. Delusions, hallucinations, and abnormal thinking are rare but serious side effects. Patients occasionally report muscle spasms or other unusual muscular disturbances when taking Wellbutrin.