Resting heart rate is the number of times your heart beats in one minute while your body is at rest. Heart rate is controlled by an electrical current in the heart. Factors such as age, fitness level and health status can all affect your resting heart rate value. Resting heart rate in toddlers may be a bit higher than in adults.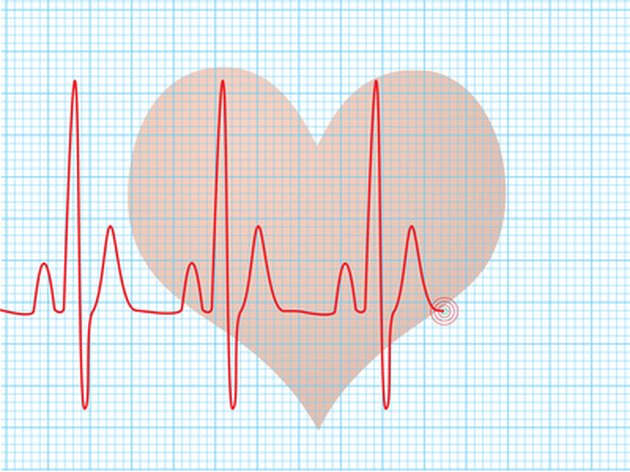 Normal Values
Typically, the older you get, the higher your resting heart rate. However, professionally trained athletes tend to have a lower resting heart rate, because their cardiovascular training has made their heart more efficient. According to the Nelson Textbook of Pediatrics, 70 to 110 beats per minute is considered a "normal" resting heart rate for a toddler. This is slightly higher than the normal adult range. The American Academy of Pediatrics classifies a toddler as a child between the ages of 1 and 3 years.
Measurement
It can be somewhat difficult to obtain a true resting heart rate on your active toddler. According to the American Heart Association, the best time to measure, for children and adults alike, is first thing in the morning before your child gets out of bed. Turn your child's hand palm-side up. Then take your pointer and index finger and place them on the thumb-side of your toddler's wrist. You should count the number of pulses you feel for an entire minute. The number of pulses you feel should give you a fairly accurate resting heart rate. Of course getting your toddler to lay still for an entire minute can be a task, so you could also count for 30 seconds and double the pulses you feel. Your toddler should be calm and relaxed while doing this. Any movement, crying, talking or breathing patterns can raise the heart rate to above-normal levels. You should also repeat this several times to get a general idea, or an average, of the child's resting value. Physicians rarely make any determinations of health status based on one reading.
Importance
Your heart is responsible for pumping blood, oxygen and other nutrients throughout the body. Any interruption of this pumping could adversely affect the other tissues and organs of the body. The heart should beat regularly and efficiently. A pulse that is too high, called tachycardia, or too low, called bradycardia, can indicate underlying problems. Therefore, the pulses you feel when checking the resting heart rate should be strong and rhythmic in nature; that is, it should be like a clock ticking. You shouldn't feel any flutters, racing or long pauses between beats. If you feel either of those, you should contact your pediatrician immediately.
Considerations
If your toddler consistently has a higher heart rate than what is considered the normal 70 to 110 beats per minute, you should seek out your child's pediatrician for evaluation. Be prepared to answer questions about your child's overall health. Such as: Does he have a fever? Has he been eating and drinking enough fluids? Is your child breathing normally? Several things such as infections, dehydration, asthma and heart defects can all affect a child's resting heart rate. A parent should also seek out medical attention if the toddler's heart rate is lower than normal--especially if the lower heart rate is accompanied by weakness, dizziness, being pale and lethargy.
Evaluation
If you seek out medical attention for your child's heart rate, you should be prepared for your child to be evaluated by an electrocardiogram. This is a quick and easy way to check the electrical currents in the heart. The physician, nurse or technician will place tiny stickers, called electrodes, on various locations of your child's chest. The electrodes will be connected to wires that feed information to a computer-like screen. The screen will show the electrical activity of the heart. This is often the first step in evaluating the heart. Other tests that may be performed are the echocardiogram, holter monitors or event monitors.