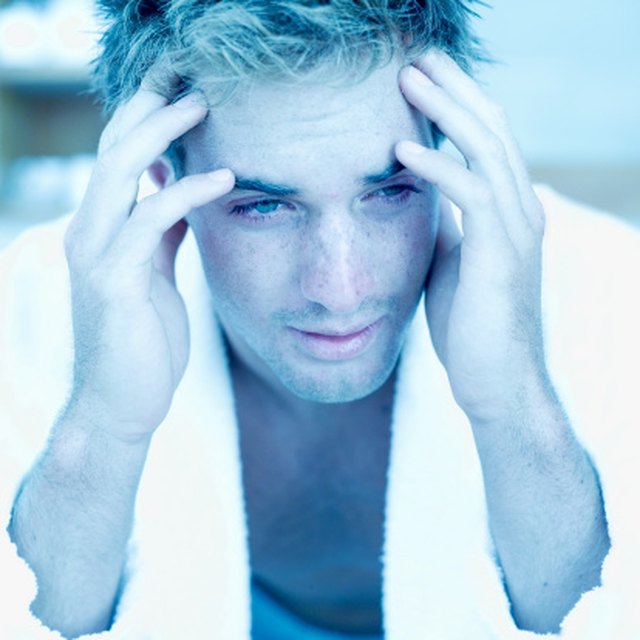 It's easy to feel panicked when you experience a fast or irregular heart rate, especially when it's coupled with other symptoms such as feeling lightheaded. Symptoms affecting the heart warrant medical attention, particularly if they happen suddenly. A number of health problems cause a rapid heart rate and lightheadedness. Though stress and anxiety can contribute to developing these symptoms, they can be signs of serious, life-threatening conditions as well.
Heart Palpitations
Your heart beats irregularly when you have a heart palpitation. These don't typically last long; in fact, palpitations may last only for a few seconds. Yet in that short time, you can become lightheaded or dizzy. Several conditions cause palpitations, including thyroid dysfunction, anemia and heart disease. Consumption of caffeine, nicotine, and some prescription drugs are also potential causes, says MedlinePlus. A disorder affecting your heart rate, called an arrhythmia, causes a fast heartbeat and lightheadedness. Other symptoms include sweating, fainting, paleness and chest pain.
Cardiomyopathy
A heart disease called cardiomyopathy also causes a rapid heart rate and feelings of being lightheaded. The heart is enlarged and weakened in this condition, making it difficult for the organ to pump blood throughout your body. Other symptoms include breathing problems, fatigue, a pounding heartbeat and swelling in the legs or feet. The cause of cardiomyopathy isn't always clear, but certain conditions can play a role in its development. Previous heart damage, high blood pressure, alcohol abuse, drug use and diabetes are possible culprits, the Mayo Clinic says.
Dehydration
Being dehydrated can have considerable effects on your body and is life-threatening in severe cases. Dehydration doesn't occur only when you're stranded without water. Severe diarrhea and vomiting cause a large loss of water and nutrients. Kids are at particular risk for this type of dehydration. Excessive sweating and fever are other causes. Uncontrolled diabetes can cause excessive urination, as can certain drugs such as diuretics and blood pressure medications, the Mayo Clinic says. Other symptoms of dehydration are intense thirst, dry mouth, headache and confusion.
Panic Attacks
Experiencing a panic attack is overwhelming and frightening, particularly due to its similarity to a heart attack. Symptoms vary, but some of the most common ones include a rapid or pounding heartbeat, nausea, dizziness and shaking, says FamilyDoctor.org. You may also feel that you're about to die. Additional signs of an attack are chills, sweating, hot flashes, chest pain, breathing difficulty and a feeling of being choked. Your doctor may diagnose you with panic disorder if you have multiple episodes of attacks.