Different types of exercise emphasize different elements of physical fitness. Well-balanced workout regimens include different types of exercise to help you avoid injury and develop or maintain overall physical fitness. You may perform different types of exercise in varying proportions, depending on your goals. For example, overweight individuals may burn more calories by increasing flexibility, and endurance athletes can avoid injuries by including strength exercises in their training.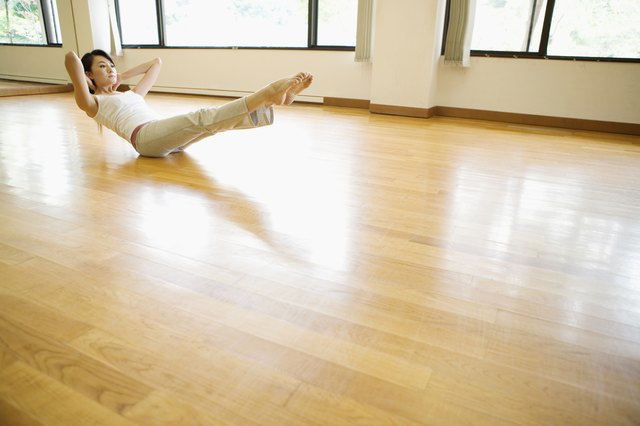 Aerobic
Aerobic exercise involves performing continuous movements with large muscle groups, such as your legs, for 20 minutes or more. Cycling, swimming, rowing, walking or jogging are forms of aerobic exercise. You may perform aerobic exercise to increase your cardiorespiratory endurance or lose weight. Low-intensity aerobic exercise sessions that last at least 45 minutes are ideal for weight loss, according to the National Federation of Personal Trainers. Enhancing your cardiorespiratory endurance requires higher intensity aerobic exercise, which may last between 20 and 30 minutes.
Anaerobic
Anaerobic exercises increase the force your muscle contractions can generate, and may increase your strength, speed or power output. Weightlifting, sprinting and plyometrics are examples of anaerobic exercise. This type of exercise involves performing fewer, and more intense, muscle contractions than aerobic exercise. For example, heavy weightlifting exercises exhaust your muscles after fewer contractions, because each contraction is particularly intense. Anaerobic exercises, which exhaust your muscles in 15 or fewer repetitions, may provide optimal strength gains. Increasing the power of each contraction may require exercises that exhaust your muscles in under six repetitions.
Flexibility
Flexibility exercise enhances the range of motion of your muscle and joint movements. Stretching and many yoga poses, are forms of flexibility exercise. Flexibility exercises are particularly beneficial after anaerobic exercise, because more recovery nutrients reach your hungry muscles. Prolonged muscle tightness, poor recovery and bad posture can shorten your muscles over time. Flexibility exercises stretch out your muscles to help prevent shortening and subsequent injuries. You may hold post-workout stretches for 10 to 30 seconds, while you may hold individual yoga poses for up to five minutes.
Stability
Stability exercise improves your ability to maintain body alignment while resisting unwanted bone and joint movements. For example, balance, agility and core training include stability exercises. Stability exercise enhances your control of body movements by strengthening muscles, which support and coordinate your joint articulations. Greater stability helps you perform more powerful muscle contractions, because less energy is lost through inadvertent joint and muscle movements. The National Federation of Personal Trainers recommends including 10 minutes of stability exercise in your daily workout regimen.