Most people are focused on burning fat with exercise because more than 66 percent of U.S. adults are overweight or obese, according to the American College of Sports Medicine. However, it is important to also maintain the lean muscle tissue you have to function properly as well as burn the most fat. Cardio workouts need to be challenging enough to raise your heart rate and burn fat, while maintaining your lean muscle with strength training and diet.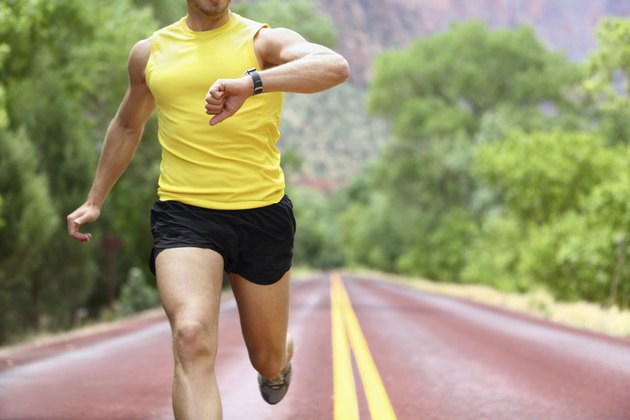 Cardiovascular Exercise Recommendations
Cardiovascular exercise is any activity that raises your heart and respiration rates and keeps them there for an extended period of time. Walking, running, swimming, cycling and elliptical exercise are just a few options available to you. For significant fat burning, perform cardio workouts five to seven days each week for 30 to 60 minutes per session. Keep intensity moderate to high for the best results. Moderate to high intensity correlates to 55 to 85 percent of your maximum heart rate.
Calculating Target Heart Rate
A basic, quick calculation just uses your age to estimate heart rate training zone. Simply subtract your age from 220 to get your maximum heart rate. Then multiply your MHR by 0.55 and by 0.85 to get a training zone. However, a longer calculation that also uses resting heart rate, known as the Karvonen formula, is more accurate. Subtract your age from 220 for your MHR. Subtract your resting heart rate from your MHR for your heart rate reserve. Multiply your HRR by 0.55 and add your RHR back in for the low end of your training zone. Multiply HRR by 0.85 and add in RHR for the high end of your fat-burning training zone.
Maintaining Lean Muscle
It is important to perform resistance-training workouts to maintain lean muscle while performing fat-burning cardio workouts. Train two or three times per week on nonconsecutive days. Choose one exercise for each major muscle group and do one set of eight to 12 repetitions. Use a weight or resistance that is challenging to your muscles but allows you to complete your exercises with proper form. Change workouts every four to six weeks for continual improvement.
Importance of Diet
Often when people try to burn fat with exercise they also cut their caloric intake. If you cut your calories too much, your body will preserve your fat stores and break down lean muscle tissue. Reduce your calories by no more than 10 to 20 percent per day. Eat a balance of whole grains, lean protein and unsaturated fat as well as fresh fruits and vegetables for fat-burning and muscle preservation.