People have different goals when working out; fat loss and muscle gain are among them. Some want to build muscle to have a round, perky butt they can flaunt in jeans or short shorts, while others may want their butts to shrink a size or two.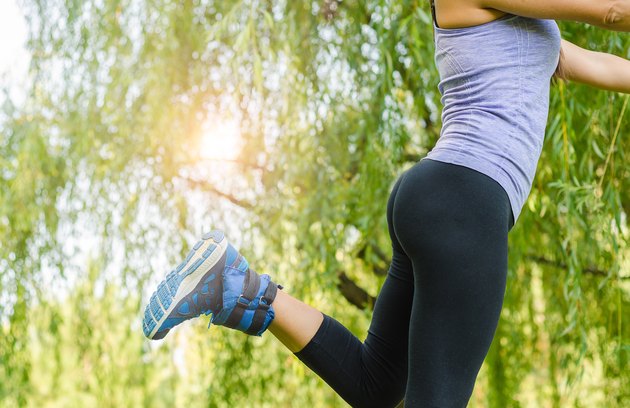 Choose the right exercises to build butt size by increasing glute muscle mass, or decrease it by reducing overall body fat. Butt-building exercises tend to be those that use heavy weights to train the lower body, while butt-reducing exercises are usually cardio based, so you use lots of calories.
Because training with heavy weights can stimulate fat burning by increasing anabolic hormones, having well-developed glutes — which are some of the largest in the body — can actually help you reduce butt size in the long run.
Cardio Focus
The primary energy system used during an exercise is the first clue as to whether it will build or decrease butt size. Exercise that mainly uses the cardiovascular system burns calories as it utilizes oxygen to process fuel for the muscles.
Your muscles build some endurance and strength to sustain aerobic activity, which includes running, cycling and Zumba. But, for the most part regular aerobic exercise develops your cardiovascular system to increase performance duration.
These exercises usually shrink your butt size as they burn calories and, as a result, reduce body fat. Too much cardio can even reduce muscle mass, depending on how low your calorie intake is.
Muscular Development
Exercises that emphasize the muscular system, such as resistance training, build your butt. Of course, choose moves that use the glute muscles, such as hip extensions, squats and deadlifts, if your goal is a bigger butt size.
Your muscles need to be challenged with weights that feel heavy in six to 12 repetitions for them to grow. Aim for three to four sets of each exercise using this heavy weight; perform the workout a couple times per week on non-consecutive days. When you break down the muscles during strength-training exercises, the fibers grow back thicker and stronger — thus increasing glute size.
While sprinting and plyometric, or jumping, movements, such as box jumps, may seem to be aerobic in nature, they also build your buttocks. Like strength training, these intense movements require your muscles to work hard for a short period of time. Your body weight acts as resistance.
Frequency
Many of the muscle-building benefits of strength training happen when you recover from your efforts. Some powerlifters only perform deadlifts — the ultimate glute-building exercise — once every two weeks. Leave 48 to 72 hours between heavy resistance glute exercises to promote recovery and growth.
On the other hand, you can perform 150 minutes of aerobic activity a week, or more, for weight loss. A brisk 30-minute walk, five days a week can contribute to the loss of excess fat and ultimately decrease butt size.
Spot Reduction Myth
When your goal is to reduce butt size, recognize that spot reduction is a myth. While you must work the butt muscles specifically to increase its size, to decrease the size of your butt you must perform aerobic exercise that reduces total body fat.
The American Council on Exercise explains that performing aerobic exercises utilizing your butt will not cause your body to burn fat more quickly from your butt. Fat loss is a whole body experience and from where you lose fat first depends a lot on your genetics and body type.