Getting ripped takes time, particularly if you are starting from scratch and need to build muscle as well as cut body fat. Unfortunately, getting ripped is not a linear process -- you won't experience a set rate of muscle gain or fat loss every single week. There are "rules of thumb" that provide a rough guideline of what to expect over time, however. If your progress trends according to those guidelines, you'll see significant changes to your body within months.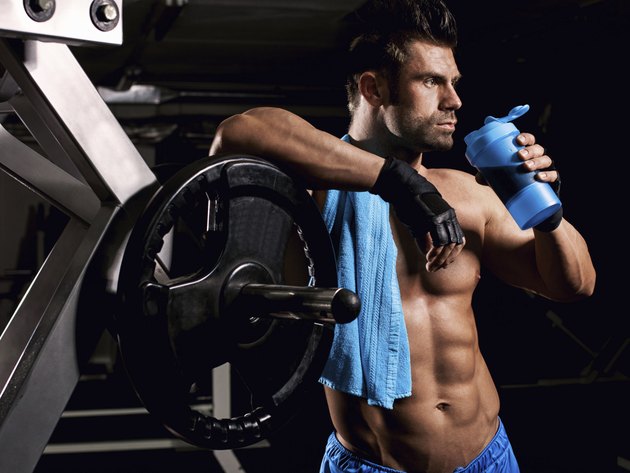 Gaining Muscle
Building lean muscle mass can be a very slow process. A standard expectation is that you will gain a maximum of a pound per week. In order to achieve this, you will need to lift heavy weights three to four times a week and eat at a significant caloric surplus. For example, if your maintenance intake is around 2000 calories, you'll want to increase it to between 2500 and 3000 calories per day. Additionally, you'll need to get plenty of sleep, as rest periods are the time where your muscles recover and develop. Depending on how much mass you want to gain, this can take anywhere from three months to two years or more.
Cutting Body Fat
Once you've built up the muscle mass you want, the second part of getting ripped is to drop any unwanted body fat. In order to do this without jeopardizing your new muscle, you'll need to take a multi-pronged approach. The first priority is your diet: reduce your carbohydrate intake, increase your water intake and eat plenty of fibrous vegetables, lean protein sources and small amounts of healthy fats. Next up, introduce some high intensity interval training to your workouts. The International Journal of Obesity found that HIIT will burn lots of energy without catabolizing muscle protein as longer, moderate-pace cardio can do. Fat loss tends to happen more quickly than muscle-building, so you can expect to lose around two pounds a week, although this will not happen on a linear timeline.
Preparation is the Key
In order to get ripped in the least amount of time possible, you'll have to be organized and very focused. It's a tough process to build muscle mass and drop body fat, so it will need to be one of your only priorities. Plan your workouts ahead of time, and always push for progressive overload -- working harder or longer than you did last time. Your meals should also be planned ahead of time. Prepare food in bulk so you are never caught short, which can lead to poor snap decisions when you're hungry and impatient. The better your planning and preparation, the more reliable and speedy your progress will be.
Dump Stress, Get Sleep
There are external factors that will also affect how long it takes you to get ripped. High amounts of stress will slow your fat loss, disrupt your sleep and lessen the impact of your workouts, so be ruthless in removing sources of stress from your life. The Harvard School of Public Health found that sleep is a very important factor in your progress. Not only does it give your muscles the chance to develop, but it also facilitates fat loss by reducing stress hormones and balancing digestive hormones that control the appetite. Increasing your sleep to eight hours per night will speed up the rate at which you get ripped.