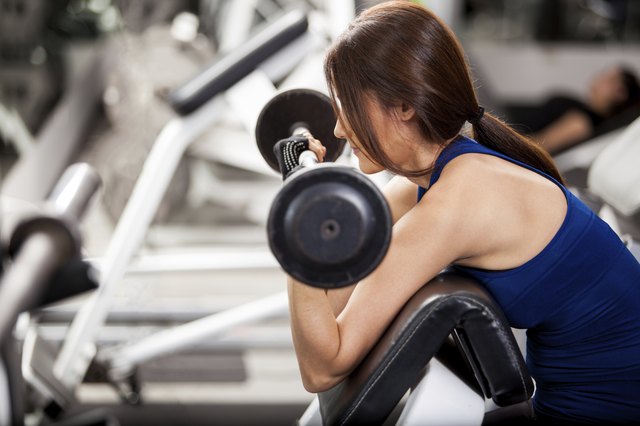 Lifting weights damages your muscles. Though that may sound strange, pumping iron at the gym actually depletes muscle-building nutrients in your body and creates microscopic tears in your muscle fibers. It is only after you workout that your body begins to repair the damage you inflicted on it and you experience the muscle growth you desire.
Overall Timeline
Len Kravitz, Ph.D. of the University of New Mexico states that muscle growth occurs in your body when the breakdown of muscle protein is less than the rate of muscle protein synthesis. Every time you lift weights, you are breaking down the proteins in your body, but also increasing their rate of repair for a minimum of two to four hours. Heavy weight training stimulates your protein synthesis for up to 24 hours, thus maximizing your muscle growth until your next workout.
Anabolic Phase
In the book "Sport Nutrition for Health and Performance," Melinda Manore et. al. describe the anabolic phase as the 45-minute period after your workout when your muscles go into overdrive to repair the damage from weight lifting. While very little actual muscle growth takes place during this phase, it is critical to consume carbohydrates and proteins in a ratio of 3:1 to limit the amount of muscle damage present. A post-workout meal or supplement shake during this window stimulates hormone release and sets the stage for increased protein synthesis.
Growth Phases
A majority of the actual muscle growth in your body takes place during the rapid and sustained growth periods after the workout. The rapid growth period begins around the one-hour mark post-workout and lasts up to five hours after the workout. The sustained growth period is anywhere from five to 24 hours after you lift weights. Regularly consuming small meals and snacks of carbohydrates and proteins every two to three hours during the growth phases will help you keep your glycogen, amino acid and nitrogen levels elevated. All of these nutrients contribute to positive protein synthesis.
Sleeping
Doctors advocate sleeping for eight hours every night because this is a critical period for your body to recover and repair itself. Your body, however, runs out of muscle-building glycogen and protein while you sleep and enters a muscle breakdown stage called the catabolic state. In order to offset this breakdown, you should eat a dietary supplement or cottage cheese mixed with whey protein before bed. These products provide you with long-lasting fuel overnight to keep your muscle growth at its highest.