Theoretically, it's possible to gain about a pound of muscle per week -- at least during the initial phase of a strength training program. Many variables affect your ability to do so, however. If you decide to try a new eating and workout regimen, always consult a doctor before beginning.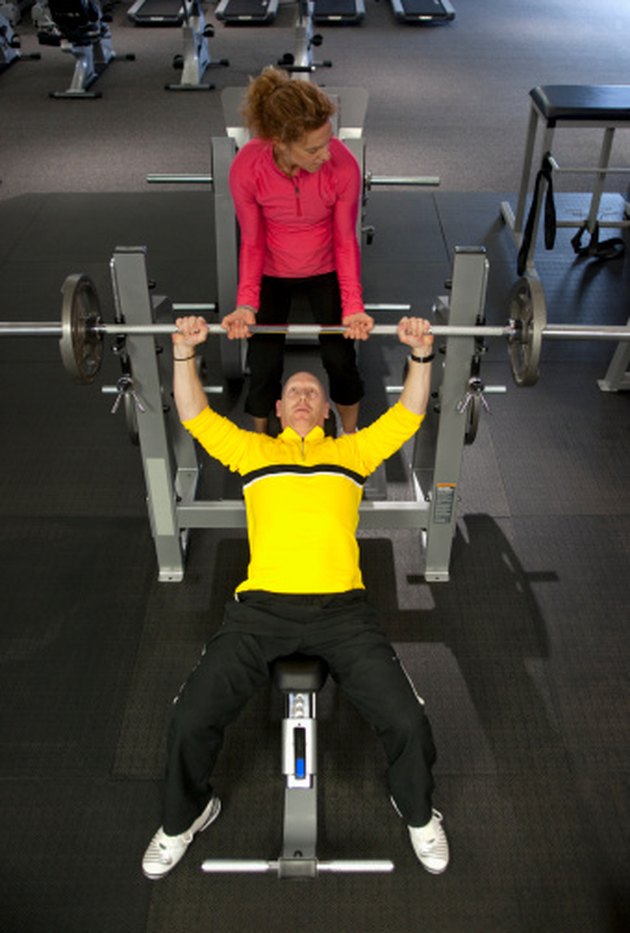 Considerations
Nutrition and strength training both play roles in your ability to gain muscle mass. Your body's response to strength training is difficult to predict, however. Genetics, hormonal status and body type all influence this response in addition to nutrition, according to "Nutrition for Sport and Exercise," by Marie Dunford and J. Andrew Doyle.
Types
You need to increase your strength training volume to build your muscle mass. Resistance training promotes protein synthesis and can elevate it for up to 48 hours following a strenuous workout. However, not everyone's body will build mass at the same rate. That means you might gain more or less than a friend who trains and eats exactly the same as you do. Your testosterone and growth hormone levels play a role in the speed at which you can gain muscle. These are mostly responsible for stimulating muscle growth in your body. The circulating amounts of these hormones can vary widely from person to person.
Function
Your muscle growth rate will be affected by how much, what and when you eat. It's important to eat within 30 minutes of exercise to promote muscle growth because protein breakdown increases after you work out, and food helps your body create more muscle than it breaks down. Your caloric intake also has to be bigger than the amount of calories you burn off every day. In all, you need to consume about 500 calories above what you'll burn off to gain one pound of muscle per week, according to the book "Lifetime Physical Fitness and Wellness." Ensuring you take in 14g of additional protein a day also is essential if you want to gain about one pound a week of muscle. However, pursuing a slower rate of muscle weight gain is more likely to give you the lean tissue you desire as opposed to additional fat, according to Judy Anne Driskell and Ira Wolinsky, authors of "Energy-Yielding Macronutrients and Energy in Sports Nutrition."
Expert Insight
Be aware that it's difficult to predict the exact number of calories needed to gain a pound of muscle. While the 500-calorie-a-day recommendation is a common one for people who are attempting to gain one pound muscle each week, the actual amount needed varies from person to person. Consuming extra calories also can change your body's thermic response to the food you consume, says Melinda Manore, lead author of "Sport Nutrition for Health and Performance." When you eat, the energy available from your food is expressed in calories. Some of these calories are burned during the digestive process and due to diet-induced heat loss. The remainder, or amount of energy you have left from the food, is what your body uses for muscle growth, fat storage, metabolism and physical work.
Time Frame
You may be able to gain one pound a week when you initialize a new training regimen, but this rate of muscle growth is likely to taper off, notes Enette Larson-Meyer, author of "Vegetarian Sports Nutrition." For example, 18 to 25-year-old football players and bodybuilders are able to increase their body mass by 20 percent in just one year, but the initial gains can taper off and become as small as one to three percent after many years of training, Larson-Meyer notes.