Some people are able to add muscle to their legs quickly, while others have to follow a training program for months before noticing a difference. Age, hormones, training history, genetics, diet and supplementation can all affect the speed at which you're able to build bigger legs. However, you can expect to see some improvements within certain time frames, especially if you're committed to training.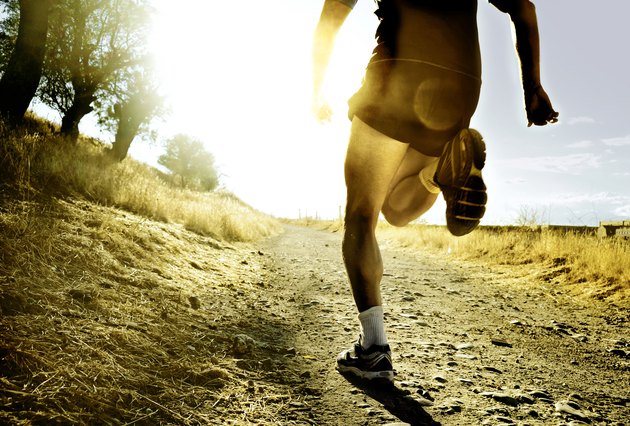 Speed of Gains
According to exercise physiologist, Alan Argon, the rate of muscle gain is most directly related to training experience. Someone new to resistance training may increase muscle mass by 1 to 1.5 percent of his total body weight per month, while an experienced person who has trained for over two years might only see a 0.25 to 0.5 percent monthly increase. For example, an inexperienced, 130-pound person may gain nearly two pounds of muscle in a month. With a solid leg training plan, a substantial portion of these gains could be in the legs.
Gaining Muscle Faster
Train legs for growth by following a plan that stimulates hypertrophy. The best range is around three to five sets of six to eight reps per exercise. Do intense compound exercises that integrate multiple lower body muscles, such as squats, deadlifts and leg presses. Perform isolation exercises to target specific muscles, including leg extensions, leg curls and seated calf raises.
To build muscle, you must use very heavy weights that make the last few reps in each set hard to complete. Take a minute or two to recover between sets so you can always work to your maximum effort. If you really challenge yourself at these workouts, just one to two workouts per week for your lower body is sufficient to develop more muscle mass. Recovery between workouts is the time when your muscles grow.
Get adequate sleep regularly too. When you sleep your body releases hormones and goes on a program of mega repair, especially if you've been training intensely.
Diet Matters
Support your muscle-gain efforts with a diet that's focused on healthy foods and a notable amount of protein. To retain or gain muscle mass, you need around 0.64 to 0.9 grams per pound of your body mass. A 180-pound man might then need 115 to 162 grams over the course of three to six meals spread throughout the day.
One of these protein meals should come right after your strength training to take advantage of the muscle building window opened by your efforts. Whey protein, lean meat and dairy are good options for protein sources at this time, or at any meal throughout the day.