Working your muscles is the only way to make them stronger. However, it's not during the actual workout that your muscles become more powerful -- the workout itself breaks down muscle tissue. It's the recovery period between workouts, in which the biochemical processes responsible for muscle-fiber repair and synthesis, that is critical to getting stronger. Without adequate recovery between sessions, your regimen will stagnate. How long your muscles take to recover depends on the type and intensity of the workout.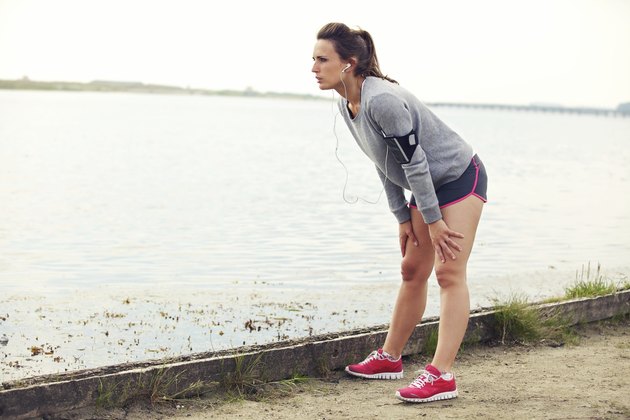 Recovery from Running
Running provides a good model for determining how much time it takes muscles to recover from a workout, because running involves the same basic muscles in every session, with the variables being intensity, duration, surface and topography. Runs on hilly terrain require an extended recovery because of the phenomenon of delayed-onset muscle soreness, or DOMS, resulting from the eccentric muscle contractions inherent in the braking component of downhill running. A study in the "British Journal of Sports Medicine" suggests that muscle soreness after prolonged downhill running peaks at 48 hours, after which recovery takes over. Trained runners can work out on flat ground daily and still accrue gains, so topography makes a tremendous difference.
Lifting Weights
Like running and other forms of exercise, lifting weights involves both concentric and eccentric muscle contractions. In the former, the muscle is shortening as its fibers contract, as in the part of a biceps curl when the dumbbell is brought up toward the body. In the latter, fibers are lengthening even as they contract, as in the part of the curl in which the dumbbell is lowered. Eccentric contractions cause more muscle damage and thus entail longer recovery. John Berardi, Ph.D., says that taking everything into account, a given muscle will not fully recover until seven to 14 days have elapsed after a hard workout. However, you can resume your workouts after 48 hours of rest.
Nutrition and Recovery
Regardless of the type of exercise you do and how hard you do it, muscle recovery time is strongly influenced by how and when you fuel those muscles. "Racing Weight" author Matt Fitzgerald notes that recovery is influenced by four factors, all of them related to nutrition: fluid and electrolyte status, muscle glycogen, reducing muscle stress and rebuilding muscle protein. Taking in fluids and carbohydrates both during and immediately after a workout, says Fitzgerald, is vital to a speedy recovery. You should eat a high-protein meal as soon after exercising as possible in order to ensure a rapid rebuilding of muscle tissue.
Effects of Sleep
Although medical science has yet to unlock the answer to the question of why animals need sleep in the first place, it's unquestionably a physiological requirement, and how much and deeply you sleep affects how quickly you recover from a hard workout or other physical stressor. As exercise physiologist Pete Pfitzinger notes, most people who work out regularly report sleeping more and experiencing a better quality of sleep overall. He also states that one sign of overtraining is an inability to fall or remain asleep, owing to over-activation of the sympathetic nervous system. So if you're lying in bed at 3 a.m. wide awake with a racing heart, consider easing off the throttle during your workouts.