Great strength is often associated with a large amount of muscle mass. Although, there is a correlation between the two, more muscle mass does not necessarily mean stronger. For example, powerlifters tend to be stronger than bodybuilders, but bodybuilders have a larger amount of muscle mass. This occurs for different adaptations that take place during training.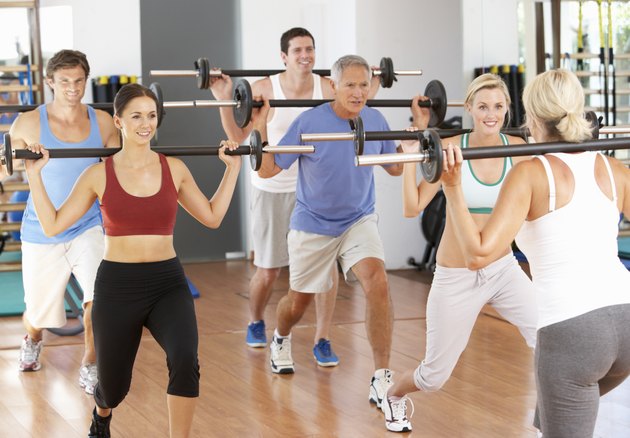 Muscle Size
Increasing muscle mass or muscle hypertrophy occurs with an increase in size and number of the small muscle fibers, or myofibrils, within the muscles. Furthermore, bodybuilders tend to have a large amount of collagen and other noncontractile connective tissue contributing to muscle size, reports the National Strength and Conditioning Association. Muscle hypertrophy occurs by lifting moderate weights with reduced rest periods between sets and a high volume of sets or exercises.
Muscular Strength
Adaptations that occur with increasing muscular strength are slightly different from muscle hypertrophy. Along with some muscle hypertrophy that occurs, more biochemical adaptations take place, which enable lifters to lift a heavier load such. Some biochemical changes include an increase in muscle glycogen, stored glucose in the muscles, creatine phosphate and adenosine triphosphate substrate stores and additional enzyme activity needed to speed reactions for maximal energy production. Improve muscular strength with heavy loads, fewer repetitions and longer recovery periods. The decreased number of repetitions does not allow time to stimulate the growth process as in high-repetition training that produces high levels of phosphate and hydrogen ions, which enhances the growth process.
Training For Mass
Training for an increase in muscle mass involves performing a high volume of activity for each muscle group. Complete three to five different exercises per muscle group, with three to six sets of each exercise. Selecting a weight in which muscle fatigue is reached between six to 12 repetitions at about 50 to 75 percent of your one-repetition maximum. Rest periods between each set are short in duration, usually between one to two minutes in duration.
Training For Strength
Improve muscular strength with higher-intensity training. Fewer exercises are necessary, and there is reduced number of sets needed: typically, two to three exercise per muscle group and three to five sets per exercise. Select a weight at which muscle failure occurs between four and eight repetitions and rest periods between sets are two to three minutes in duration. Additionally, perform high-power activities using a heavier weight in which failure occurs between two and five repetitions.