Anti-anxiety drugs and antidepressant medication help treat people with different anxiety disorders. Some drugs that work effectively for patients may have the side effect of sexual dysfunction. Readjusting the dosage or switching to other medications may reduce or avoid sexual side effects. However, certain medications are less likely to cause sexual problems. Some patients report no problems with sexual dysfunction when taking anxiety medication. Side effects, such as headaches, insomnia, fatigue, drowsiness or other difficulties, may play a role in medications, depending on the patient and the patient's condition.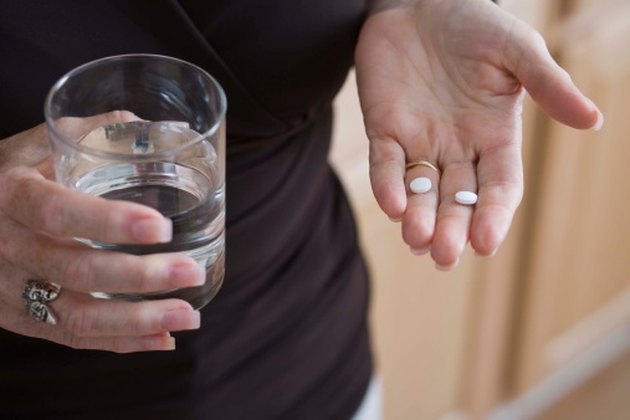 Bupropion
Bupropion, an antidepressant also used to treat anxiety, may cause no sexual side effects, according to Insight Journal. A 2001 study at the University of Virginia concluded that bupropion had the lowest rate of sexual dysfunction when compared with other antidepressants, Psych Central notes. The evaluated antidepressants included selective serotonin reuptake inhibitors, or SSRIs, and serotonin and norepinephrine reuptake inhibitors, SNRIs. SSRIs and SNRIs work well with anxiety but have sexual side effects as a drawback. Bupropion, a norepinephrine and dopamine reuptake inhibitor, works by preventing the absorption of these adrenal chemicals by the brain so patients have more of the compounds to improve moods. Doctors may prescribe bupropion to offset the sexual side effects of other antidepressants.
Nefazodone
Nefazodone, another antidepressant used to reduce anxiety, inhibits the brain's absorption of serotonin and norepinephrine, but is unrelated to SSRIs and SNRIs. Serotonin regulates emotional states, while norepinephrine is involved with adrenaline. Nefazodone also had low rates of sexual dysfunction in the University of Virginia study. It may work effectively in the treatment of generalized anxiety disorder. People who suffer from sexual side effects from other antidepressants may consider asking doctors about using nefazodone as a replacement, Psych Central says.
Mirtazapine
Mirtazapine also works by increasing chemical activity in the brain to provide mental balance. The antidepressant effectively treats generalized anxiety disorder. Doctors may also prescribe the medication as a replacement for other antidepressants and in addition to other medications to ease sexual side effects.
Buspirone
The anti-anxiety drug buspirone may ease the sexual side effects caused by antidepressants, according to MayoClinic.com. Buspirone works similarly to antidepressants by taking several weeks before becoming fully effective for patients. Doctors prescribe buspirone for the long-term treatment of patients with anxiety. Other anti-anxiety medications, such as benzodiazepines, have the possibility of becoming addictive and usually work over shorter periods for acute anxiety patients, who do not have to face habit-forming risks by taking the drug during longer treatment.
Is This an Emergency?
If you are experiencing serious medical symptoms, seek emergency treatment immediately.