Harsh dietary restrictions and exercise requirements make rapid weight loss in a short time frame a dangerous option. An electrolyte imbalance can result from neglecting important nutrients, and it is likely that any weight loss would be from lean muscle or water rather than fat. A healthy weight-loss goal of 1 or 2 pounds a week will result in a 2- to 6-pound weight loss in 21 days. One pound is equivalent to 3,500 calories, and you must reduce your caloric intake by 500 to 1,000 daily calories to lose 1 to 2 pounds per week. To reduce your calorie intake without feeling hungry, swap out high-calorie, fattening foods for lower-calorie, less fattening foods that satiate your hunger.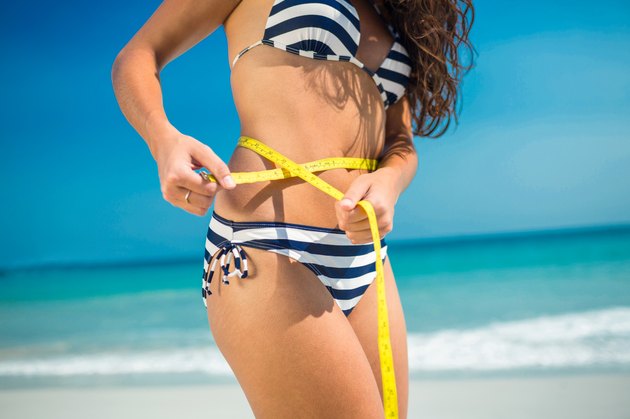 Load Up
Step 1
Load up on breakfast. When you skip it, your hunger builds up and you become famished, which makes you more likely to overeat later in the day. However, grabbing a doughnut isn't the answer.
Step 2
Eat eggs, which are loaded with protein and will keep you feeling full and satisfied. In fact, "Good Housekeeping" reports that one study of 30 overweight and obese women who consumed two scrambled eggs, along with two slices of toast and low-calorie fruit spread, ate less food -- even a day and a half later -- than their counterparts who ate a bagel breakfast of comparable calories.
Step 3
Eat beans and salads with your meals, and eat pears for snacks, since these high-fiber foods are known to fill you up longer so you'll be less likely to reach for unhealthy, high-calorie choices.
Drink Up
Step 1
Drink plenty of water, which has no calories, and also flushes fat and waste out of your body, which in turn, helps you to lose weight.
Step 2
Ditch fruit drinks, fruit juices and sodas, which all contain a hefty number of calories -- several hundred at least. For example, the average 16-ounce soda contains 200 calories. If you forgo one soda a day, that's 1,400 calories a week, or 4,200 calories in 21 days that you didn't consume.
Step 3
Abstain from alcoholic beverages and those over-the-top, sugary lattes and blended coffee drinks, which are basically high-calorie milkshakes that can be detrimental to your weight-loss goals.
Switch Up
Step 1
Switch out some of your regular food items with healthier foods which are lower in fat and calories. For example, when choosing poultry, select skinless breast, which is the leanest part of chicken.
Step 2
Select lean cuts of meat, such as tenderloin, sirloin, chuck or round. Buy "select" or "choice" meats over the more fattening or "prime" cuts.
Step 3
Bake your food instead of frying it, which eliminates the need for fatty oils that can add calories to your bottom line.
Step 4
Swap out high-calorie salad dressings for apple cider vinegar, which has no calories.
Step Up
Step 1
Step up your exercise routine. According to the Centers for Disease Control and Prevention, you need at least 150 minutes of exercise a week, which can be divided into 30 minutes a day for five days a week. Run, walk, cycle -- just get moving. Split up your exercise routine into 10-minute intervals done three times a day if you're pressed for time.
Step 2
Ride your bicycle moderately for 30 minutes to lose 210 calories if you are a 125 lb person, 260 calories if you are a 155 lb person or 311 calories if you are a 185 lb person. Pushing a lawn mower can help you burn 165 calories, 205 calories, and 244 calories, respectively, while walking 4.5 miles per hour burns 150 calories, 186 calories, and 222 calories, respectively.
Step 3
Increase either the amount or intensity level of exercise to drop pounds even faster.
Tip
If you don't like water, add lemon or lime juice to spice it up.
Warning
Be sure to get your physician's approval before beginning a strenuous workout routine.