Actress Suzanne Somers popularized the ThighMaster, an inner thigh toning device, during the 1990s. The V-shaped, rubber-coated ThighMaster adds resistance to easier exercise and enhances body awareness during more subtle movements. The company now makes two models. The ThighMaster Gold works the inner thigh muscles, and the ThighMaster LBX works the outer thighs, but be creative. Both devices enable exercise for other muscle groups.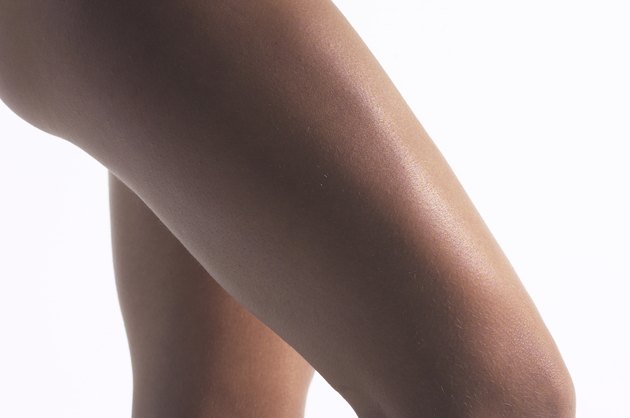 ThighMaster Stretch
Step 1
Place the ThighMaster Gold on the floor, so that one side of the device lies flat and the other side faces the ceiling.
Step 2
Stand in an upright position. Bend at the waist and place your hands on the upward facing part of the ThighMaster. Keep your knees straight, but not locked. Inhale to prepare for the exercise.
Step 3
Breathe out, draw your belly in and press the upward section of the ThighMaster toward the floor. Keep your arms straight. Inhale and relax. Perform eight repetitions. You will feel a stretch in the upper back and hamstrings.
ThighMaster Bridge
Step 1
Lie supine on an exercise mat with your knees bent and your feet flat on the floor.
Step 2
Place the ThighMaster between your inner thighs, so that it forms a "V" position.
Step 3
Squeeze your inner thigh and gluteal muscles and lift each vertebra from the floor, until your spine creates a bridge. Relax your inner thighs as you roll back to the floor. Perform 10 repetitions. This exercise works the inner thighs, gluteal muscles and core.
Chest Press
Step 1
Sit or stand upright. Position the ThighMaster Gold so that the cap, located in the center of the device, is facing your chin.
Step 2
Place your hands below the cap and rest your forearms against the handles.
Step 3
Breathe in to prepare. Exhale, contract your pectoral or chest muscles and bring your elbows and forearms toward each other. Perform 15 repetitions. This exercise works your chest.
Fire Hydrant
Step 1
Kneel on all fours, placing the ThighMaster LBX around your outer thighs, just above your knees.
Step 2
Draw your belly in to support your back and create a straight line from the top of your head to the base of your spine. Slide your shoulders away from your ears.
Step 3
Raise your right leg to the side, working against the handle's resistance. Return with control. Avoid leaning into your opposite hip or sagging your lower back. Perform 10 repetitions on each side. This exercise works the outer thigh and gluteal muscles.
Tips
Supplement your workout with aerobic exercises.
Warning
Do not let your children or pets chew on the ThighMaster.