The hip labrum is the ring of soft cartilage that follows the outside rim of the socket of your hip joint. Normally, it acts as a suction cup to hold the hip joint together, according to the Mayo Clinic. However, athletic trauma or structural abnormalities can cause the labrum to tear, often resulting in surgery and physical therapy to strengthen the joint and surrounding muscles.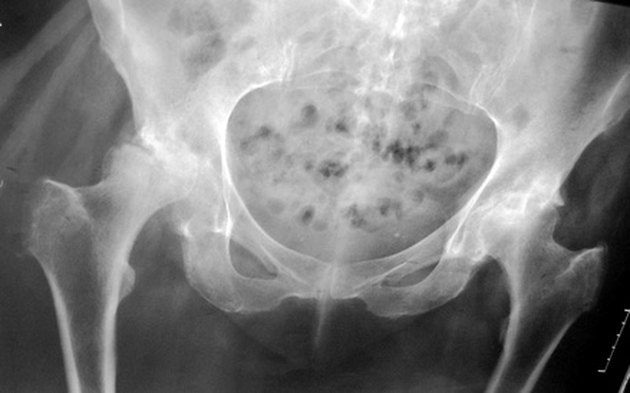 Hip Flexion Exercises
While every treatment protocol is based on individual needs and limitations, Christine Springer, Director of Physical Therapy at Sports Center in Austin, Texas, indicates that the goal of a labral hip repair is to regain normal hip flexion, range of motion and stability after surgery. Patients begin with light stretches and hip flexion exercises. A simple hip flexion test is administered periodically and should be part of a treatment plan. Lie on your back and raise your knee up to your chest as far as possible. Stop when you have a pinching or pain sensation. Repeat this stretch according to instructions from your therapist.
Hip Rotation Exercises
Hip rotation exercises will also be prescribed and tested periodically throughout the treatment period. Specifically, your external rotation and hip abduction will be measured. Physioadvisor.com describes the external hip rotation exercise as lying on your back and dropping your knee to the outside as far as possible pain-free. The hip abduction exercise also begins by lying on your back. Keep your knee straight and take your leg to the side as far as possible. Then return to the starting position. Keep your knee cap and toes facing the ceiling throughout the exercise.
Squats and Gluteal Exercises
According to Springer, many labral tears are caused by weak core, back and gluteal muscles. Athletes overcompensate for the weaknesses, putting severe pressure on the hip joint. Treatment for labral hip tears will include several exercises, including squats and clam shell exercises, to strengthen the gluteal muscles. Squats may be done with a resistance band around the knees to engage the appropriate muscles. Clam shells involve lying on your side with hips and knees bent. The ankles stay together as you slowly move your knees apart and then return to the starting position. Hips stay in line and don't rotate. This ensures you are engaging the core muscles. Again, a weight or band may be used to increase resistance and promote muscle growth and stabilization.
Lumbar Stabilization Exercises
Lumbar stabilization exercises are an important step in full recovery, according to hiplabraltear.com. Weak back and core muscles must be strengthened to ensure a full recovery from labral hip tears and prevent recurrence. Bridges are one example of a common lumbar exercise. Lie on your back with knees bent. Slowly lift your bottom off the ground until the gluteal muscles are tight and engaged. Hold and then lower back down slowly. Another example of lumbar stabilization work is the plank exercise. Raise your body on your toes and elbows and keep your back straight. Hold as long as possible, but do not bend or arch your back.
Pool and Other Non-Weight Bearing Exercises
Depending on the severity of the repair, your physical therapist may include pool therapy and stretches as part of a recovery routine. Pool exercises allow you to work on range on motion and flexion without stressing the hip joint on land. Further, you can also simulate running in the pool which is an effective way of improving movement in the hip joint and receiving cardiovascular benefits.