Alprazolam, also known by the trade name Xanax, is a benzodiazepine medication primarily used for the treatment of anxiety disorders. The University of Maryland Medical Center says that benzodiazepines such as Xanax are used for short-term treatment of alcohol withdrawal to reduce the risk of seizure and relieve symptoms of confusion, anxiety and hallucinations. Xanax is only available by prescription and reportedly helps balance a neurotransmitter in the brain called GABA. The National Institute on Alcohol Abuse and Alcoholism indicates that GABA in the brain is increased with use of Xanax. This then prevents the brain from becoming overly excited and causing severe withdrawal symptoms.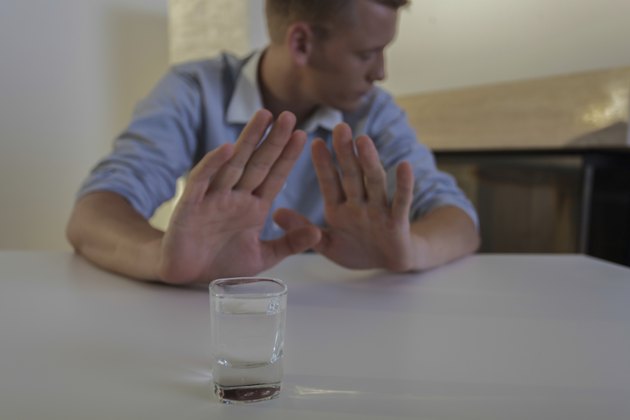 Step 1
Discuss detox options with a physician. Find a physician with a specialty in addictions and recovery to have a candid conversation with about your goals. Honestly report your history of alcohol use, including any prior attempts made at detox. Ask questions about the benefits and side effects of using Xanax. Consider inpatient vs. outpatient detoxification support based on your physician's referral for care.
Step 2
Take Xanax as prescribed for optimal benefit. The Physicians Desktop Reference explains that dosage of Xanax begins at .25 to .5mg three times a day, depending on need. Read your prescription instructions, and only take the directed dose for the intended amount of time specified by your physician.
Step 3
Follow up with physician appointments after beginning Xanax. During the course of taking Xanax, you may experience side effects from lack of alcohol or from the medication. Keep track of the side effects and discuss this with your physician at the follow-up appointment. In serious cases of alcoholism, you may require medical detox. MedicalDetox.org says that this is a medically monitored inpatient detox that may be required when severe withdrawal such as seizures and delirium tremens occurs.
Step 4
Involve yourself in support and recovery programs. Successful recovery often occurs when ongoing support is available. As Xanax helps you overcome the immediate withdrawal, consider finding a support group or relapse prevention treatment program to attend regularly to maintain sobriety. The University of Maryland Medical Center suggests incorporating treatment in the form of individual counseling, cognitive-behavioral therapy groups or Alcoholics Anonymous meetings.
Step 5
Recognize the limitations of using Xanax. This medication is not intended to prevent alcohol cravings. Xanax decreases the discomfort of physical irritation symptoms only. Although Xanax is helpful in this process, it is also known to have similar effects as using alcohol and may become addictive, according to the Physicians Desktop Reference.
Warning
Do not drink alcohol while taking Xanax. The combination can be deadly, according to Medical News Today.
Do not stop taking Xanax before consultation with your physician.
Xanax is not indicated for pregnant women or people with serious medical conditions.