You may take ibuprofen to help control pain, but too much of the medication may have adverse effects on your body. If you have a disorder involving the liver, you are at increased risk. While occasional use will not have a large impact, too much ibuprofen over time can result in damage to your liver, stomach and intestines. Talk to your doctor before starting an ibuprofen treatment regimen.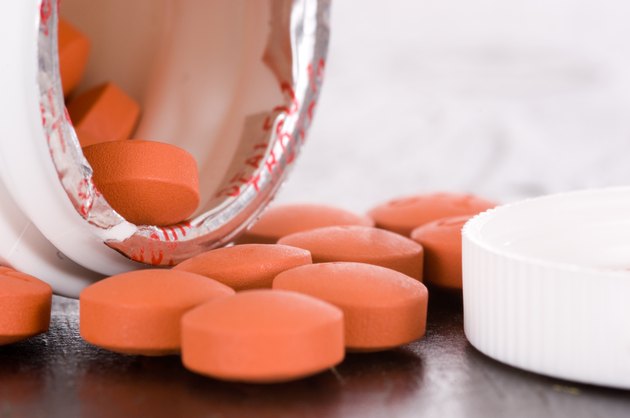 Killing the Pain
According to the National Institutes of Health, ibuprofen is in the class of medications known as NSAIDs, or nonsteroidal anti-inflammatory drugs. NSAIDs work by preventing the body's production of substances that cause pain, fever and inflammation. Used in small doses, ibuprofen is an effective pain killer with few health risks.
Inflaming Your Liver
According to the Centers for Disease Control and Prevention, ibuprofen contributes to liver inflammation. Although it is not as toxic as acetaminophen, excess ibuprofen may lead to toxic hepatitis. Too much ibuprofen causes a rise in the production of alanine aminotransferase, or ALT, a liver enzyme that is released when liver cells are damaged or are dying.
With Hep C, Avoid Ibuprofen
The CDC recommends that patients with hepatitis C should not use ibuprofen. Large amounts of the drug may stress the liver and raise your levels of liver enzymes. If you have chronic hepatitis C and choose to use ibuprofen as a pain killer, see your doctor regularly to monitor your health and check your liver function tests.
Love Your Liver
According to the National Institutes of Health, you shouldn't use ibuprofen if you have any type of liver damage, as you may be at increased risk of gastrointestinal bleeding. You also risk developing gastric ulcers and gastrointestinal pain.
Is This an Emergency?
If you are experiencing serious medical symptoms, seek emergency treatment immediately.