It's still unclear whether eating frequent small meals leads to more weight loss than the traditional three-meals-a-day approach. However, eating six times a day can stabilize your energy levels. It also helps keep hunger at bay, which can prevent you from overeating. Consumer fewer calories than you burn if you want to lose weight with this meal plan. You must create a 3,500-calorie deficit to lose a pound a week.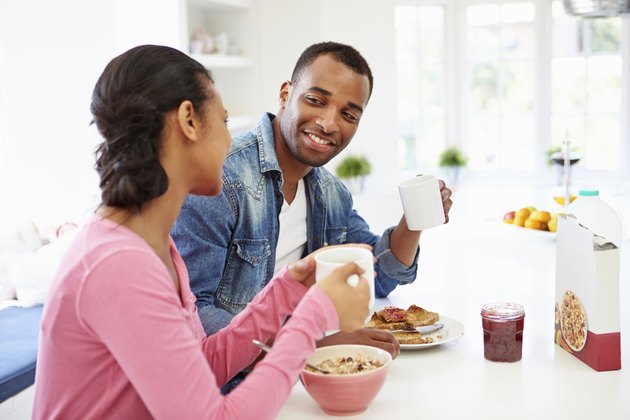 Step 1
Divide your daily calorie intake into six meals. Each meal should contain roughly the same number of calories. For instance, if you consume 1,800 calories a day, each meal should contain about 300 calories.
Step 2
Eat every three hours to spread your meals throughout the day. To lose weight eating six meals a day, create a regular eating schedule. Eat your first meal within an hour after you wake up. Plan your remaining five meals accordingly. For instance, if you have breakfast at 6 a.m., schedule the rest of your meals for 9 a.m., noon, 3 p.m., 6 p.m. and 9 p.m. Follow your established meal schedule for the best results.
Step 3
Keep your portion sizes small. Failing to reduce portion sizes is one of the most common mistakes dieters make when starting eating six meals a day. It's easy to underestimate how much you eat. If each meal contains 50 to 100 calories more than you planned, it can easily become 300 to 600 additional calories at the end of the day. Read nutrition labels and plan carefully so each meal contains the correct number of calories. Use measuring cups, measuring spoons or a scale to get the serving sizes right.
Step 4
Include a source of protein and fiber at each mini-meal. Such nutrients are important for your weight loss program because they promote satiety. Protein and fiber will help you feel satisfied with fewer calories. Good sources of protein include chicken, turkey, fish, lean meat, eggs, low-fat cheese, legumes, seeds, nuts and nut butter, while fiber is found in all vegetables and fruits, as well as legumes and whole grains.
Things You'll Need
Measuring cups

Measuring spoons

Scale
Tip
Talk with a dietitian if you need help establishing a weight loss meal plan that includes six meals a day.