Night sweats, also called sleep hyperhidrosis, can be associated with a variety of serious illnesses. Night sweats are differentiated from primary hyperhidrosis, which is characterized by excessive sweating from one area of the body. According to an article by James Mold and colleagues in the "Annals of Family Medicine," physicians are unable to discern the cause of night sweats if the symptom appears without an associated illness.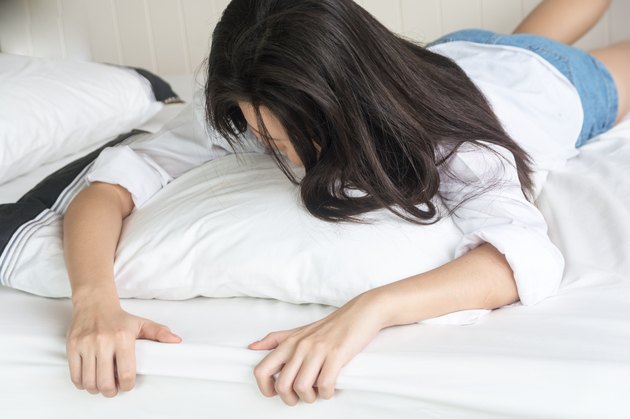 Hyperthyroidism
Hyperthyroidism occurs when the thyroid gland located at the front of the neck secretes too much thyroid hormone. The thyroid gland is an organ of the endocrine system that secretes thyroxine, or T4, and triiodothyronine, or T3. These hormones control how the cells of the body produce energy through the process of metabolism. Hyperthyroidism increases metabolism, thereby producing more heat, which is a by-product of metabolism. As a result, night sweats occur in addition to rapid heart rate, moist skin, tremor, anxiety, insomnia, bulging eyes and heart palpitations, according to the University of Maryland Medical Center.
Infection
Chills occur after exposure to cold; however, excessive sweating also decreases body temperature during night sweats and can cause chills. Other causes of chills include infectious mononucleosis, meningitis, pneumonia, influenza, colds, bacterial or viral gastroenteritis, strep throat and urinary tract infections, according to the University of Maryland Medical Center.
Cancer
Lymphoma is a cancer of the lymphatic system and tissues that produce, carry and store white blood cells. Because it disturbs the immune system, cancer can cause night sweats in addition to chills, fatigue and itchy skin, according to the University of Maryland Medical Center.
Other
The aging process can cause night sweats. A 2004 study by James Mold and colleagues reports that 10 percent of older individuals experience night sweats. Although night sweats are most likely caused by autonomic reactions to emotional situations and stress, patients should see a physician to make a differential diagnosis for diabetes, anxiety, depression, pain, sensory deficits, tuberculosis, cancer and restless leg syndrome.
Menopause can also cause night sweats. Menopause is a natural event marking the end of menstruation and fertility. The process involves hormonal changes that alter the chemistry of the body, in turn causing symptoms such as night sweats. As the ovaries stop producing hormones such as estrogen and progesterone, hormone levels begin to drop, which causes night sweats in addition to hot flashes and mood swings, according to the University of Maryland Medical Center.
Is This an Emergency?
If you are experiencing serious medical symptoms, seek emergency treatment immediately.