A biopsy of the lungs is a diagnostic procedure during which a doctor removes a small portion of the lung tissue for further evaluation. Typically, this test is performed on patients with suspected lung disease or infection, such as lung cancer or pneumonia. There are two major forms of lung biopsy procedures: open lung biopsy and needle biopsy of the lung. Patients should consult a doctor to discuss the potential complications after a biopsy of the lungs before undergoing this procedure.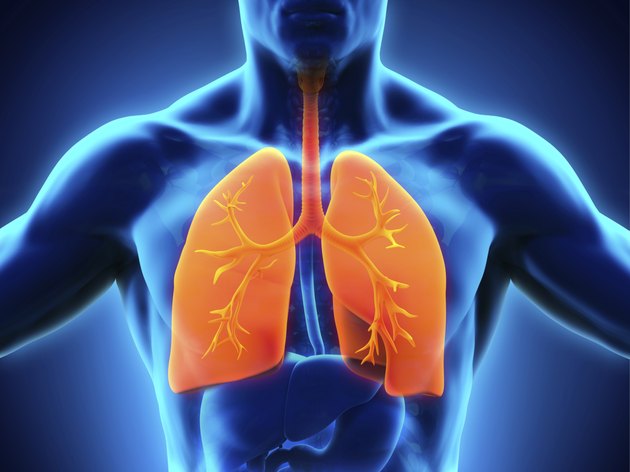 Collapsed Lung
Patients who undergo a lung biopsy can develop a collapsed lung as a complication of this procedure, the New York University Langone Medical Center warns. A collapsed lung after lung biopsy occurs when the pleural sac that surrounds and protects the lungs is punctured by biopsy tools, causing air and pressure to accumulate around the lungs. This increased pressure around the lungs interferes with a patient's ability to inhale and expand the lungs normally, resulting in lung collapse. Affected patients can experience severe breathing difficulties, sharp chest pain, blue skin discoloration or a rapid heart rate. A fully collapsed lung is a medical emergency that requires prompt medical attention in order to avoid potentially life-threatening complications.
Hemoptysis or Excessive Bleeding
Minor damage to the lungs during a biopsy can irritate and inflame the delicate lung tissue. If this occurs, small amounts of blood can be released into a patient's airways. This can cause a patient to cough up blood, a complication after a biopsy of the lungs called hemoptysis, according to RadiologyInfo.org. Hemoptysis symptoms typically resolve without further medical intervention as a patient's lung heals after biopsy. Excessive bleeding or hemorrhage of the lungs is very rare, but requires emergency medical attention if it occurs. Patients who cough up large amounts of blood or continue to experience hemoptysis symptoms for more than a few days should contact a doctor as soon as possible.
Infection
Biopsy of the lungs increases a patient's risk of developing infection complications. Lung infection risks are rare and typically affect approximately one in 1,000 patients following lung biopsy, RadiologyInfo.org reports. Lung infection symptoms can include shortness of breath, cough, chest pain or fever. Generally, lung infection complications after a biopsy of the lungs can be resolved through treatment with antibiotics.