Your body needs vitamin B-12 to trigger the activity of essential enzymes, to support the health of your nervous system, to aid other B vitamins in energy metabolism and to help synthesize red blood cells, RNA and DNA. Children who don't get enough may be more likely to develop anemia, nerve damage and neurological disorders such as trouble thinking and depression. As they age, they may have a higher risk of heart disease, breast cancer and age-related macular degeneration. Talk to a pediatrician if you're concerned about your child's vitamin B-12 intake.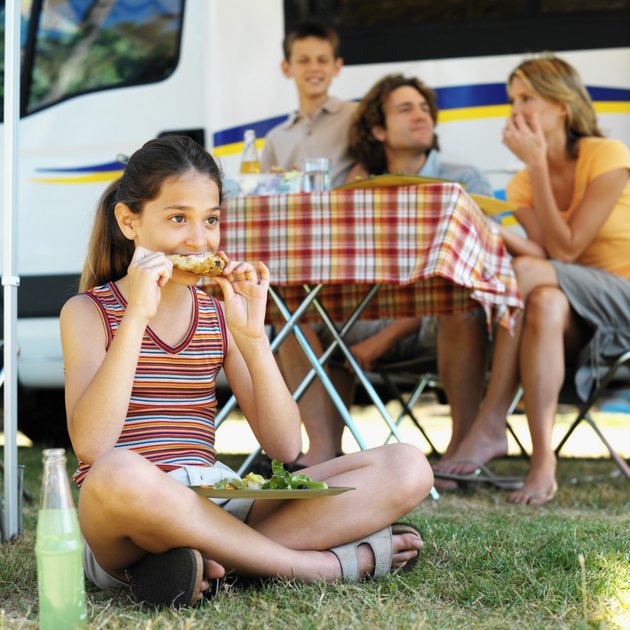 Recommended Vitamin B-12 Intake
Boys and girls between 4 and 8 years old should get approximately 1.2 micrograms of vitamin B-12 each day. Older children -- from 9 to 13 years old -- need slightly more at 1.8 micrograms of the nutrient daily. According to the Linus Pauling Institute, the average person in the United States does not have any trouble fulfilling this requirement through diet alone. It is particularly rare for young children to lack adequate vitamin B-12.
Supplementation Considerations
Although vitamin B-12 supplements for children are available without a prescription, you should not give them to a child unless you've first spoken to a doctor. Over-the-counter vitamin B-12 supplements are not regulated by the U.S. Food and Drug Administration and haven't been checked for purity or potency. The supplements may interfere with the function of drugs used to treat diabetes, seizures and cancer and should not be taken at the same time as antibiotics like tetracycline. High doses of vitamin B-12 or supplementing for an extended period of time may cause an imbalance in the body's level of other B vitamins.
Vegan and Vegetarian Children
Vitamin B-12 occurs naturally only in animal-based foods. Because of this, children who are vegans or strict vegetarians may need to take vitamin B-12 supplements to avoid deficiency, says The Vegan Society. Have a pediatrician help you determine a safe dosage for daily or weekly vitamin B-12 supplements, and do not give your child more than the daily recommended amount. In addition, vegan and vegetarian children can supplement their diets with vitamin B-12-fortified foods like plant milk, soy products and breakfast cereal.
Expert Insight
The 2010 Dietary Guidelines for Americans advises that, unless you have an underlying medical problem, you should obtain the vitamins and minerals your body needs from a balanced, nutrient-dense diet. By doing so, you'll get beneficial compounds that supplements lack. A child whose diet regularly contains lean cuts of beef, skinless chicken or turkey, eggs, low- or nonfat dairy products and seafood like salmon or canned light tuna should get enough vitamin B-12 without needing supplementation.