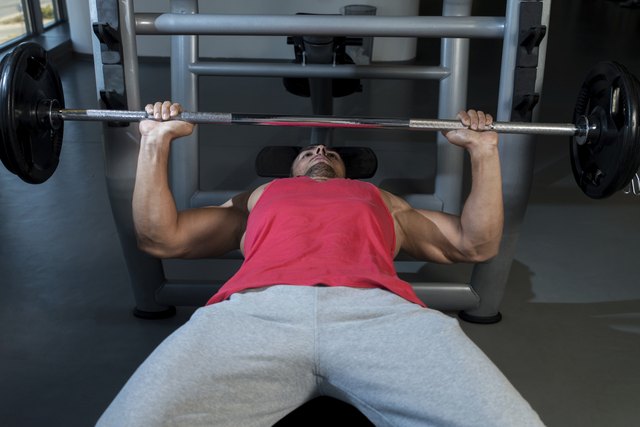 The shoulder joint is like a seal balancing a ball upon his nose, making it relatively unstable and prone to anterior shoulder dislocation, according to Dr. Peter Brukner, author of "Clinical Sports Medicine." Dislocations temporarily disrupt the position of the bones of the shoulder, but with proper rehabilitation, the athlete can return to training, with modifications, relatively quickly. Some exercises place a great deal of stress on the already lax anterior shoulder capsule, and should be avoided until a more extensive rehabilitation is complete.
Full Range of Motion Bench Press
The bench press, where the elbows drop below the body, places a great deal of stress on the anterior shoulder capsule, making it a poor choice for the recovering athlete. Instead of bench pressing, choose the push-up or floor press, says Patrick Ward, a manual therapist and strength and conditioning specialist. Execute the floor press by lying on your back in the bottom of a squat rack with the bar set low on the rack. Grasp the bar, lower until your arms touch the floor and repeat. By shortening the range of motion, stress is relieved from the shoulder joint.
Back Squat
The back squat requires an athlete to reach behind himself and pull the bar down into his shoulders. This heavily rotated position of the shoulder joint is also one of the most dangerous for dislocated shoulders, because it forces the joint forward toward dislocation, says Ward. Avoid the risk by using the safety squat bar, where you can hold handles in front of you, limiting stress on the shoulder joint.
Overhead Press
Many shoulder injuries result in the disruption of proper joint mechanics, particularly the mechanics required for overhead movement, which makes overhead pressing less safe for the injured shoulder. The compression in the shoulder joint from holding weights overhead also put the shoulder in a vulnerable position, says Ward. Athletes should revert to pressing exercises that keep the arms below the shoulders to minimize risk of injury recurrence.