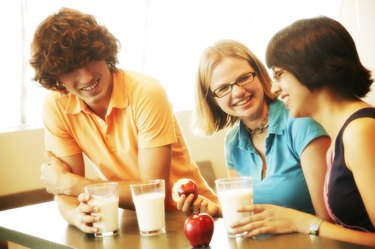 Sweet desserts, including cake, cookies and pastries, are the No.1 source of calories in an adolescent's diet, according to the 2010 Dietary Guidelines for Americans. But growing teens between the ages of 14 and 16 need to eat a more balanced diet so they get the nutrients they need for good health. Following a diet specifically designed for this age group can help in planning balanced meals to promote normal growth and development.
The Basics for Your Teen
Calorie needs for teens 14 to 16 years old vary depending on gender and activity, and range from 1,600 to 3,200 calories a day. Your pediatrician can help you determine your teen's calorie needs. Based on these calorie levels, teens in this age group need 5 to 10 ounces of grains -- with at least half of them whole grains, 2 to 4 cups of vegetables, 1 1/2 to 2 1/2 cups of fruit, 3 cups of dairy and 5 to 7 ounces of protein each day.
Healthy Start to the Day
Breakfast helps maintain a healthy weight and may improve school performance. A good breakfast for a teen might include 1 to 2 ounces of whole-grain ready-to-eat cereal with 1 cup of nonfat milk and 1 cup of watermelon. Another option might be a fruit smoothie made with 1/2 cup of strawberries, 1/2 cup of blueberries and one container of low-fat Greek yogurt blended with ice and served with a 1- to 2-ounce whole-wheat bagel. Milk and yogurt are good sources of calcium, which is important for bone growth. Teen girls are at risk of not getting enough calcium, according to the 2010 Dietary Guidelines.
Keep the Energy Flowing With a Balanced Lunch
A good lunch might include a peanut butter and banana sandwich made with 2 to 3 tablespoons of peanut butter and one banana on two slices of whole-wheat bread. Complete this meal with 1 cup of nonfat yogurt and 1 to 2 cups of cut-up veggies such as carrots, celery and peppers with low-fat salad dressing. Another healthy option is 1 to 2 cups of mixed salad greens topped with 1 to 2 ounces of diced chicken breast, 1/2 ounce of walnuts and 1/2 cup of sliced grapes with low-fat balsamic dressing. Round this meal out with 1 1/2 ounces of low-fat cheddar cheese with five whole-grain crackers and a small apple.
Nutritious Dinner for Everyone
If you want your teen to make healthy food choices, set a good example and eat dinner together. Fourteen to 16-year-olds might enjoy tacos made with 2 to 3 ounces of lean ground turkey stuffed into a whole-wheat tortilla with 2 ounces of low-fat cheese, 1/2 to 1 cup of brown rice, 1/4 cup of black beans and 1 to 2 cups of steamed broccoli. For vegetarians, make a meatless stir-fry with 1 to 2 cups of mixed veggies -- Chinese cabbage, carrots and snow peas -- and 2 to 3 ounces of firm tofu lightly sauteed with 1/2 to 1 cup of buckwheat noodles, ginger, sesame oil and low-sodium soy sauce.
Growing Teens Need Healthy Snacks
Snacks for teens help satisfy hunger and supply energy. Good snacks for teens include 1/2 to 1 cup of grapes with 1/2 ounce of almonds, 3 to 6 cups of popcorn with 1 cup of nonfat milk or 2 cups of leafy greens topped with 1/2 cup of raisins, 1/2 ounce of sunflower seeds, vinegar and oil.
What Not to Eat
Foods high in fat, sugar and sodium provide calories but offer no nutritional value and should be limited, or eliminated, from your teen's diet. This includes foods such as soda, candy, cake, cookies, chips, doughnuts, ice cream and fast food.