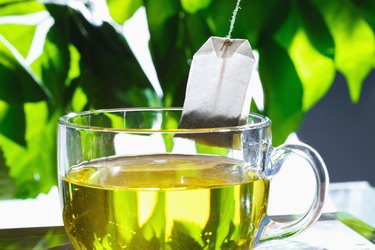 Worldwide, green tea is actually a more commonly consumed beverage than coffee, according to the Green Tea Lovers website. They note that one of the reasons for this is the possible health benefits of green tea, which contains antioxidants that can be helpful for their anti-inflammatory properties which may extend to inhibiting tumor cell growth. It appears that this effect may be related to testosterone levels, but consult with your doctor before using green tea for medical purposes.
SHBG
The testosterone side effects of green tea may actually be indirectly linked to another hormone. The website Amazing Green Tea points to a scientific study published by Japan's Saitama Cancer Center Research Institute that investigated green tea and tumor necrosis factor-alpha, or TNF-alpha. The research noted that high consumption of green tea can increase bloodstream levels of sex hormone binding globulin, or SHBG. SHBG is instrumental in the process of converting testosterone into dihydrotestosterone, or DHT.
Hormone Level
The direct lowering of testosterone levels may be a side effect of green tea, according to one study. The Department of Physiology and Pharmacology in Brazil's Federal University specifically investigated the effect of green tea on testosterone production. They found that high levels of green tea inhibited the amount of testosterone hormone in rodents. Researchers were also able to discover that the effects could be reversed if the green tea concentration was lowered.
Weight Loss
Green tea has been touted as a weight-loss aid. A study at the University of Chicago's Tang Center for Herbal Medicine Research examined the purported weight loss from green tea. After rats were injected with epigallocatechin gallate, a derivative of green tea leaves, they consumed less food and lost over a fifth of their body weight. The study, published in the journal "Endocrinology," also noted that the levels of testosterone in the rats had also been lowered, though it was not determined if that was a contributor to the weight loss.
Cancer Link
Shutsung Liao, Ph.D., who was also a part of the study of green tea and weight loss, led a team to conduct research on the effects of green tea on the endocrine system. The study showed that the lowered testosterone led to a significant decrease in the weight of the prostate. Liao noted that the prevention of prostate enlargement may protect against prostate cancer.