Diindolylmethane, or DIM, is a phytochemical produced during the digestion of cruciferous vegetables such as broccoli, brussels sprouts, cabbage and cauliflower. Besides eating these vegetables, you can obtain DIM through supplements. DIM is produced from a chemical compound in the vegetables known as indole-3-carbinol or I3C. Much research has focused on I3C, but research on DIM itself is scant, according to the Memorial Sloan-Kettering Cancer Center, or MSKCC. Consult a qualified health care provider before taking herbal supplements.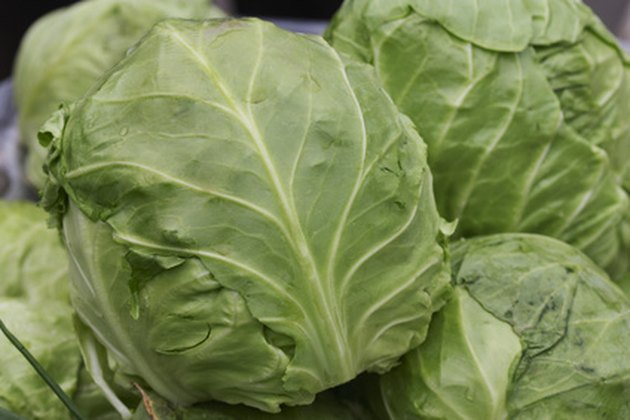 Potential
DIM is a powerful modulator of the immune response system, according to the DIM Resource Center, affiliated with the University of California at Berkeley. DIM shows potential as a therapy for viral infections, including the humanpapilloma virus, known as HPV; the human immunodeficiency virus, known as HIV; hepatitis and influenza. It also may be helpful against bacterial infections, antibiotic-resistant bacteria and skin disorders such as acne.
Anti-Cancer Effects
Animal and laboratory research has found that DIM kills cancer cells and stops the cells from spreading, according to the MSKCC. DIM shows effectiveness against pancreatic and colon cancer, and it enhances the effects of erlotinib, a chemotherapy drug used to treat certain forms of lung cancer. DIM also may be effective against breast and prostate cancer, as noted by the MSKCC.
Theories/Speculation
Research shows beneficial effects of DIM on estrogen metabolism, according to the MSKCC. This could have beneficial effects for several health conditions, such as treating endometriosis, premenstrual syndrome and chronic breast pain in women, and preventing benign prostatic hyperplasia, or an enlarged prostate, in men. Dim might also reduce side effects and risks of estrogen hormone replacement therapy.
Usage
DIM is available as a supplement from numerous companies, and it is a primary ingredient in a proprietary formula for immune support developed at UC Berkeley. EMedTV notes that the lack of research makes it impossible to recommend a safe and effective dosage of diindolylmethane for any purpose, and it recommends following instructions on the product labeling.
Safety
No side effects are associated with DIM supplements, according to eMedTV, but it may interfere with the breakdown of some drugs in the liver. This could lead to increased or decreased absorption of certain drugs, as well as increased side effects. Ask your health care provider about possible drug interactions with DIM if you take any prescription medication.