Laparoscopic surgery is a minimally invasive surgery used to address a number of internal ills. According to Patient UK, laparoscopic surgeries are performed to get a closer look at internal organs, for biopsies, to treat endometriosis, to manage ovarian cysts and ectopic pregnancies, and as a way to access the gallbladder or appendix for removal. Like all surgical procedures, laparoscopic surgery comes with side effects.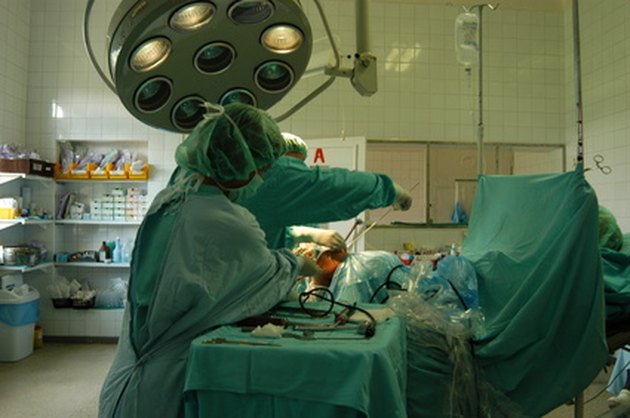 Severe Immediate Postoperative Pain
Researchers in Israel doing a comparative study of pain levels between traditional and laparoscopic surgeries found that there was greater immediate postoperative pain in laparoscopic procedures, according to a 2006 issue of "Annals of Surgery." The pain was measured by the needs for additional painkillers, which 54 percent of laparoscopic patients needed. After 24 hours, laparoscopic surgery was rated as less painful than traditional styles, but the immediate postoperative pain required more attention.
Infected Incisions
According to Patient UK, patients undergoing laparoscopic care may experience infections around the incisions associated with surgery. This side effect is occasional, but treatment will require antibiotics.
Shoulder and Upper Chest Pain
A common side effect of laparoscopic surgery, according to Surgery.com, is upper chest or shoulder pain. Patient UK notes that this may be concentrated in the shoulder blades. The pain is related to increased abdominal cavity pressure caused by the gas surgeons use to inflate the abdominal area prior to the first incision to give them a clearer view and better access to surgical sites. Surgery.com notes that the pain typically lasts for one to two days after the surgery.
Damaged Internal Organs or Blood Vessels
Laparoscopic procedures are linked with internal organ and blood vessel damage, according to Patient UK. This is a rare side effect of the use of laparoscopic tools, and will require emergency traditional surgery to repair, especially if intestines are ruptured.
Surgery.com notes that thinner patients with strong abdominal muscle tone are at a higher risk for internal damage from laparoscopic surgery as there is less room to maneuver tools. Obese patients may be at higher risk as more force is needed to navigate internally.
Is This an Emergency?
If you are experiencing serious medical symptoms, seek emergency treatment immediately.