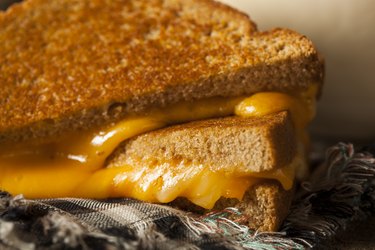 Improving the symptoms of autism through diet is a popular therapy among parents who have an autistic child. According to the Association for Science in Autism Treatment (ASAT), one such food list that is widely used is the autism diet known as GFCF or GF/CF (gluten-free/casein-free). The GFCF food list consists of two kinds of proteins to avoid: gluten, found in wheat and other grain, and casein, found in dairy products such as milk and cheese.
Read on to learn more about the GFCF diet for autism.
The prevalence of autism has increased in recent years, though the exact numbers and classification of the disorder remain murky. "Autism spectrum disorder (ASD) is a developmental disability caused by differences in the brain," explains the Centers for Disease Control and Prevention (CDC). "Scientists believe there are multiple causes of ASD that act together to change the most common ways people develop." Those with ASD might learn, communicate and behave differently from other people.
On March 24, 2023, the CDC's Autism and Developmental Disabilities Monitoring Network (ADDM) published their most recent report on the prevalence of autism spectrum disorder (ASD) among 8-year-olds in the U.S. "For 2020, one in 36 children aged 8 years (approximately 4 percent of boys and 1 percent of girls) was estimated to have ASD," they found. "These estimates are higher than previous ADDM Network estimates during 2000–2018."
This increase in the number of kids diagnosed with ASD "highlights the need for enhanced infrastructure to provide equitable diagnostic, treatment and support services for all children with ASD," they concluded.
What to Avoid With the GFCF Diet
Contrary to popular belief, bread isn't the only food that contains gluten. Gluten is a protein present in rye, barley and wheat, and any product containing one or more of those grains contains gluten.
The Autism Community in Action (TACA) adds many soy products to their list of foods to avoid when following the GFCF diet. "The protein structure of soy is similar to gluten and casein," they claim. "Therefore, it can cause the same issues."
It's crucial to recognize that, because gluten contains valuable vitamins and fiber, a gluten-free diet requires close monitoring by a nutritionist or medical doctor to ensure adequate nutrition.
Non-Food Products Containing Gluten
Educational material published online by the Children's Minnesota health system includes long lists of foods prohibited by the GF/CF diet and observes that many non-food items — such as lip balm, soap, sunscreen, toothpaste, stamps and envelopes — also contain gluten and should be avoided by those on a gluten-free diet like GFCF.
Like gluten, casein is a protein found in many foods. All dairy products contain casein, including cheese, yogurt and milk from animal sources — cow, goat and human.
Warning
Removing gluten and casein from your autistic child's diet should be implemented with extreme care, as it can result in a nutritional deficit. "A GF/CF diet is not easy to follow," warns Children's Minnesota. "Gluten and casein are a big part of our usual diet. Because the diet does not contain milk products, or many breads and cereals, your child may not get enough calcium, fiber, vitamins A, D and B complex or calories." Consult your child's doctor before starting the GFCF diet.
Foods Allowed on the GFCF Diet
Commercial breads contain the gluten protein from wheat flour. However, there are brands you can find at your local supermarket that are gluten-free. These breads are usually made from rice or tapioca flour. The taste and texture are different from regular bread. The different flour used to make gluten-free brands gives the bread density. If you have trouble finding a bread that your child enjoys, try making your own. Gluten-free bread recipes are plentiful online.
Casein-Free Milk Substitutes
Humans are mammals, so obviously most children drink milk. However, on the GFCF diet, animal milk in any form is not allowed. Finding a milk substitute that your child likes can be a challenge. Luckily, many casein-free milk alternatives can be found at your local grocery store, such as rice milk, almond milk, soy milk and hemp milk.
Tip
Before purchasing a milk alternative, make sure the container states that the product is casein-free, not just dairy-free. Some products may say they are dairy-free but still contain the casein protein as a thickener.
Casein-Free Cheese Substitutes
Cheese is a common favorite of children and eliminating it from your child's diet can be difficult. Alternative cheese products are mostly soy-based and have a similar taste and texture to your child's regular cheese. Check the ingredient list before purchasing any alternative cheese, as some brands that are labeled "dairy-free" may still contain the casein protein.
Fruits and vegetables, whether canned, fresh or frozen, are typically safe choices for a GFCF diet — as long as they're not served in a butter, cream or cheese sauce. Meat of all kinds is also considered gluten-free, unless it's served breaded (as with chicken nuggets).
Rice is gluten-free. Soy, too, is naturally gluten-free; however, the National Celiac Association cautions that certain soy products — such as teriyaki sauce, miso and soy sauce — include ingredients that contain gluten. Read labels carefully if you want to avoid gluten intake.
GFCF Diet: The Bottom Line
Although there are no definitive studies proving the GFCF diet's positive effects on autism, many parents of autistic children claim that it helps reduce autism symptoms. Proponents of the GFCF diet, such as TACA, say that certain "improvements" are seen in autistic children who don't eat gluten or casein, including "reduced aggression," "improved expressive and/or receptive communication and an improved ability to focus."
However, these claims have not been proven, so the effectiveness of autism diets such as GFCF is still in question. More research is needed.
"Until further research suggests a strong causal relationship between the GFCF diet and specific and measurable positive changes in socially important targets of individuals with autism, it should not be used to treat this disorder," says ASAT. "The behavioral changes resulting from the use of a GFCF diet with children with autism are limited and mixed. The financial cost and associated health risks further suggest avoiding a GFCF diet as a treatment for autism."
Concluded the researchers, "Parents choosing to use [the GFCF diet] should weigh all costs associated with the diet (e.g., money, time, ability to evaluate effects, health status of child, social stigmatization) against the uncertain benefits."