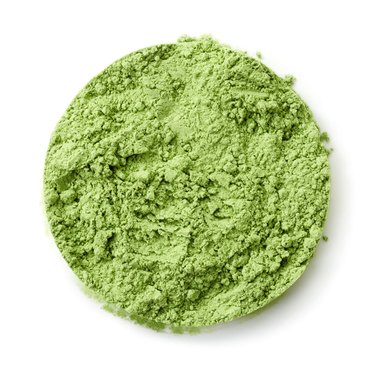 No single mix or supplement is going to help you lose weight -- only eating fewer calories than you burn helps you do that. Amazing Grass SuperFoods, a line of powdered mixes made from a variety of fruits, vegetables and herbs, are high in nutrients and low in calories. They may not contain any magical ingredients that are going to burn the fat away, but they can be incorporated into a healthy weight-loss plan.
Know What's in It
Amazing Grass offers 10 different Green SuperFood powders, including its original formula, berry, chocolate and orange flavored options, as well as others touted as energy boosters and antioxidant-rich and multivitamin formulas. One serving of any of the Amazing Grass SuperFoods contains 25 to 30 calories, 4 grams of carbs, 2 grams of fiber, 2 grams of protein and 0 to 1 gram of fat.
Count Those Calories
Amazing Grass SuperFoods are not promoted as weight-loss supplements. It's suggested that you use the powder as a way to up your nutritional intake or, for certain powders, as a way to meet your daily fruit and vegetable needs. But you'll need to count the supplement's calories as part of your overall intake when your goal is weight loss. Although an extra 30 calories a day may not seem like much, if you don't make any changes to your intake or exercise routine, those extra daily calories can lead to an extra 3 pounds over the course of a year.
Suggestions and Tips
Amazing Grass suggests you mix one scoop of the powder with 8 ounces of water or juice, or add it to a smoothie. To save calories, you might be better off mixing it with water. But you can mix it into a low-calorie smoothie, which may also help you get more fruits and vegetables in your diet. A good low-cal mix might include blueberries, strawberries, spinach and nonfat Greek yogurt or banana, kale and almond milk.
You can also add your SuperFoods powder to plain nonfat yogurt or oatmeal to add flavor. Or sprinkle the supplement on a bowl of freshly cut fruit to make it into a nutrient-packed dessert.
Other Things to Consider
Although Amazing Grass SuperFoods are made from whole foods, you may not need to supplement your diet at all. The American Academy of Nutrition and Dietetics says the best way to get all the vitamins and minerals you need to stay healthy is to get them from real food. If you're eating 1,600 calories or less, however, you may benefit from additional supplementation, according to the academy. Consult your doctor about your diet and whether you might benefit from a supplement like Amazing Grass SuperFoods.