Do you tend to gain weight easily, especially in your lower body? If your diet is in check and you're sticking to your workouts, your genetics might be the culprit. The endomorph body type is prone to weight gain. Its slow metabolism and big appetite make it difficult to stay lean, but it also allows for faster muscle and strength gains. The right diet can turn your weaknesses into strengths and help you build the body you're after.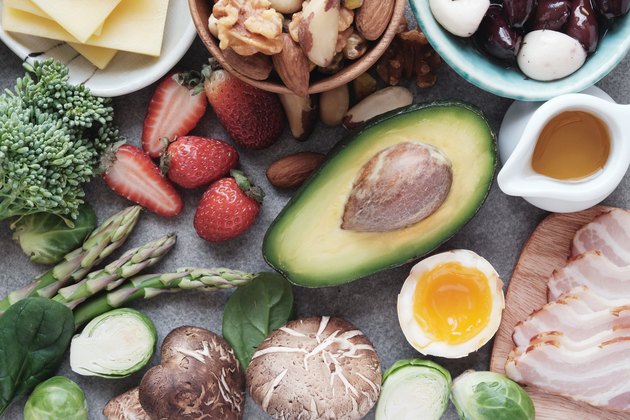 Are You an Endomorph?
Back in the 1940s, psychologist William Sheldon classified body types into three categories: endomorph, ectomorph and mesomorph. Ectomorphs are thin and find it difficult to put on weight as either muscle mass or body fat. We all have that one friend who can eat everything in sight without gaining a pound — that's an ectomorph.
Mesomorphs are naturally fit and muscular, with a narrow waist, wide shoulders and solid torso. They find it easy to build muscle and lose fat.
Endomorphs are characterized by roundness. They have a large, round belly, a round head and short limbs. They tend to store fat, and they find it hard to maintain a healthy weight despite training hard and eating clean. Their wrists and calves are slim, which poses further challenges when it comes to building muscle and strength. In general, they carry their weight in the thighs, buttocks and lower abdomen.
Endomorph Diet Strategies
According to the American Council on Exercise, the endomorph body type has a lower tolerance for high-carb foods. This means that any carbs you eat are more likely to be stored as fat. Furthermore, endomorphs have quite a big appetite and may find it difficult to eat clean.
If you fall into this category and want to get leaner, keep your carbs in check and watch your portions. The endomorph nutrition strategy emphasizes high-protein foods and healthy fats over carb-rich foods. For best results, cycle your carbs and cut back on simple sugars. Feel free to have cheat meals once in a while, but keep them to a minimum.
A low-carb diet can make it easier to lose stubborn fat and keep the pounds off. A 2018 study published in The BMJ found that cutting back on carbs may increase metabolism during weight-loss maintenance, especially among people with high insulin secretion. The low-carb group had lower ghrelin levels and burned more calories throughout the day compared to the high-carb group. Leptin levels were lower too in low-carb dieters; this hormone is produced in the body's fat cells and regulates energy balance.
Best Foods for Endomorphs
Choose Your Carbs Wisely
The endomorph body type is sensitive to carbs and tends to store them as fat. However, this doesn't mean you should give up carbs altogether. Cauliflower, cabbage, spinach, cucumbers, artichokes and berries are rich in fiber and complex carbohydrates. Plus, they're low in calories and high in water, filling you up quickly.
Eat these foods around your workout to get the energy needed for intense training. Your body will use the extra carbs to replenish its glycogen stores and repair damaged tissues. Consume high-carb foods along with protein to stay full longer and ignite your metabolism.
If you really want to have a cheat meal, save about 20 percent of your daily calories for cookies, chips or whatever you're craving. Use good judgment, though — one bad meal can ruin days of clean eating. Hit the gym before or after feasting to minimize the damage and burn those extra calories.