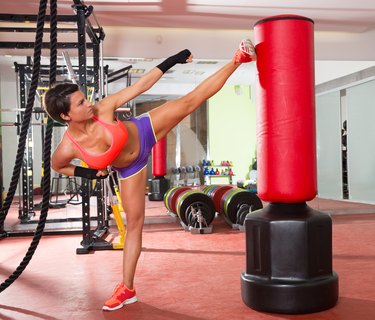 Cardio is an important part of your workout, especially if you want to lose weight or improve your heart health. It would be much easier to do if so many cardio options weren't so boring. Running on the treadmill, for example, is effective for improving your cardio, but it gets tedious quickly.
Cardio kickboxing is an alaternative to run-of-the-mill cardio workouts. As opposed to a cardio machine where you do the same motion over and over, kickboxing is fun and interactive. Punching and kicking technique is very nuanced, forcing you to focus on your form. This gives your mind a distraction from the hard work you're putting in during the workout.
Finding Kickboxing Workouts
There's plenty of information about kickboxing on the internet if you want to dive into a workout. Instructional videos on YouTube show you how to throw punches and kicks, as well as structure workouts. There are also articles that outline detailed workouts. The free workouts chosen in this article are long enough to give you a good workout, provide either visual or written instruction and include primarily kickboxing exercises.
For most people, the workout videos will work best. It's easier to learn the moves when you can watch someone. However, if you're on the go and don't have access to the internet while you're working out, use the written workout from IDEA Fit.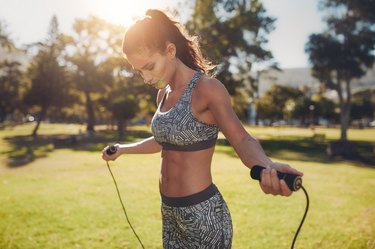 Tone It Up Kickboxing Workout
This workout video, which you can access free of charge on Tone It Up's website, is a 12-minute cardio kickboxing blast. The workout starts almost immediately so that you're working for nearly the entire 12 minutes.
Kristina, the energetic instructor, guides you through basic punches, kicks and knee strikes. The movements are all bodyweight and fast-paced, which keeps your heart rate up.
IDEA Fit Kickbox Boot Camp
At an hour and fifteen minutes in length, this workout hits multiple components. There's a full 40 minutes of cardio kickboxing, 15 minutes of high-rep weightlifting and then 10 minutes of core work. On top of that, there's a five-minute warm-up and five-minute cool-down.
For the cardio kickboxing section, you'll alternate kickboxing circuits, which should last for five minutes each, with athletic drills, which last one to two minutes each. To see the full workout, check out this article on IDEA's website.
Heart and Soul Fitness Kickboxing Workout
While this workout is available for free, it's comparable to similar kickboxing videos that you have to pay for. It's at least worth a try if you're looking for a lengthy and challenging workout. At 45 minutes long, it provides a lot for a free video workout.
During the workout, you'll combine kicks, punches and knee strikes with bodyweight movements like squats and wall sits. You can hold light dumbbells in your hands during the workout to make it more difficult for your arm muscles.
The video is hosted on YouTube, but you can access it here on the Heart and Soul Fitness website.
Jessica Smith TV Kickboxing Workout
Grab a set of dumbbells -- anywhere from 3 to 10 pounds -- and get ready for this 30-minute cardio kickboxing workout from Jessica Smith. The video is shot in a comfortable home, proving that you don't need much space or equipment to perform the exercises.
During the workout, Smith mixes cardio kickboxing moves with other bodyweight exercises, ranging from plie squats to jumping jacks. There are almost no breaks in this workout video, so you'll keep your heart rate high throughout. Head over to the Jessica Smith TV website to watch the video and follow along.