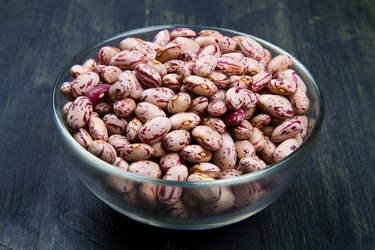 Pinto beans are one of the favorite types of beans consumed by people in the United States. Out of all the beans grown, they have the highest amount of fiber, and according to the United States Department of Agriculture, dry beans supply you with a significant amount of B-vitamins, iron, calcium, potassium and phosphorous. They contain little salt and few calories. The Centers for Disease Control and Prevention advises the consumption of a larger amount of fluids whenever you eat beans because of their high fiber content. Since fiber makes foods more filling, pinto beans are effective at helping you lose weight.
Step 1
Create a healthy pinto salad to lose weight. Mix together ¼ cup of fresh chopped green bell pepper, ¼ cup of fresh chopped red onion, ¼ cup of cooked string beans, ½ cup of drained canned pinto beans, a ¼ tsp. of dried oregano and 2 tbsp. of Italian fat-free salad dressing for a 164 calorie pinto bean salad. Pile the pinto beans on top of a cup of shredded Romaine lettuce for an additional 7 calories.
Step 2
Make re-fried pinto beans. Add ¼ cup of fresh chopped onion and 1 clove of fresh chopped garlic to ½ tbsp. of extra virgin olive oil and sauté the onion and garlic in a pan until tender. Add ½ cup of drained canned pinto beans and mix all ingredients together, heating over a low to medium flame for an additional minute. While the beans are cooking, mash them with a potato masher, then add 3 tbsp. of water to the beans and stir to blend. Stir in 1 tbsp. of fresh chopped cilantro and cook for an additional 30 seconds. Serve for a pinto dish that totals 203 calories. Add ¼ cup of rice for an additional 60 calories. Spice this dish up with hot sauce, if desired.
Step 3
Add ¼ cup of pinto beans to a pot of soup made with chicken bouillon. To make the soup a filling dish, add to it ¼ cup of cooked rice. Also add ½ cup of chopped fresh tomato, ¼ cup of fresh cooked zucchini and ¼ cup of fresh chopped onions sautéed in ½ tbsp. of extra virgin olive oil. This pinto bean soup totals 242 calories. Season the soup with black pepper, if desired.
Tip
Add a dash of Tabasco sauce to the pinto bean soup for a little heat.
Put 2 tbsp. of salsa on your refried beans if you do not mind the extra 10 calories.