Lisinopril is a medication used to treat high blood pressure and congestive heart failure. It is also used to improve survival rate after a heart attack. It is an angiotensin-converting-enzyme inhibitor, or ACE inhibitor. It dilates the blood vessels to improve blood flow, allowing the heart to pump more efficiently. According to Lisinopril.com, it was developed from the poisonous venom of a Brazilian snake. It can be used alone or in combination with another drug, and some side effects are associated with its long-term use.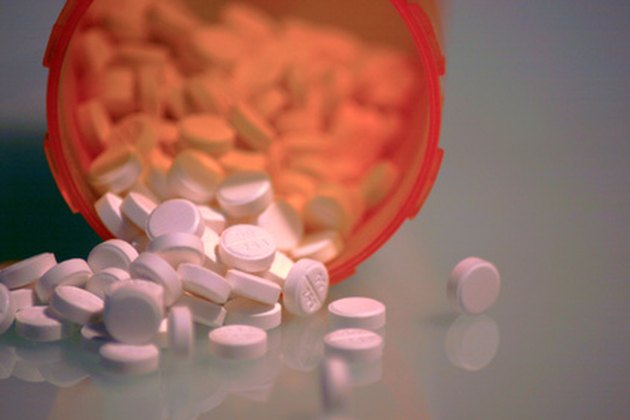 Drop in Blood Pressure
Lisinopril is a medication used to lower blood pressure. According to PDRHealth, among its side effects are dizziness, light-headedness or fainting upon standing suddenly from a seated or lying down position. This happens because it augments the drop in blood pressure that normally occurs when we move from the horizontal to the vertical. In most people this side effect goes away within a few weeks, but for some it can occur long-term.
Chronic Cough
Some people will develop a dry, tickling cough, the "lisinopril cough", while taking it, according to eMedTV. Lisinopril is an ACE inhibitor, and in addition to lowering blood pressure, ACE inhibitors are also thought to block the breakdown of secretions in the lung. These secretions can build up within the lung, causing a cough. The cough can appear within the first hours of taking lisinopril, or months later. Between 1 and 3.5 percent of those taking lisinopril develop this cough.
Cloudy Urine and Decreased Urinary Output
According to MayoClinic.com, long-term use of lisinopril can cause the urine to become dark and cloudy. It can also cause a decrease in urinary output or a decrease in the body's ability to concentrate urine. Some patients taking lisinopril long-term may notice a decrease in urine output or even an inability to urinate. This is a very serious situation that should be reported to a healthcare professional immediately.
Decreased Libido
Another long-term side effect of lisinopril can be a decrease in sexual desire—especially in males—and impotence. According to Drugs.com, this side effect occurs in fewer than 1 percent of those taking lisinopril. If any sexual side effects occur, talk to your healthcare provider about adjusting the dose.
Yellowing of the Skin and Eyes
Lisinopril is cleared by the liver, so it is possible to develop jaundice while taking it. According to PDRHealth, the signs of jaundice are yellowing of the skin and the whites of the eyes. This is a serious condition that should be reported to your doctor at once. When taking lisinopril long-term, your doctor will most likely order periodic tests to check the function of your liver.
Flulike Symptoms
According to PDRHealth, lisinopril can lower the blood levels of white blood cells, which are responsible for fighting infections. This can lead to the development of flulike symptoms, such as fever, sore throat and a runny nose. This is more likely to occur in those with lupus or kidney disease, however those with compromised immune systems should avoid contact with people with colds or the flu while taking lisinopril. Any incidence of flulike symptoms while taking lisinopril should be discussed with your healthcare provider.