Throughout the state of Florida there are several places to experience the interaction between human and Florida's smartest marine mammal, the dolphin. Taking one vacation a year to travel and explore new places can be challenging on a budget, but swimming with dolphins is a once-in-a-lifetime experience. If you know your next Florida destination ahead of time, swimming with the dolphins can be accomplished at an affordable price.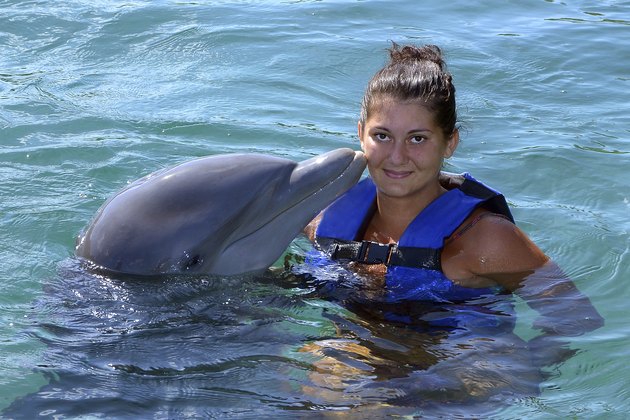 History
As far back as ancient Greece there have been many reports that dolphins led or carried drowning or tired swimmers to safety. Also, swimmers have been protected by dolphins against sharks. In 1963, "Mitzi," an Atlantic bottlenose dolphin, was captured and starred in the original pilot movie, "Flipper." Since then, many schools offered in-water work with dolphins regarding the learning relationships of children with mental disabilities. Significant improvement in responses occurred following interaction with dolphins.
Effects
Have you ever noticed that when you see a dolphin, you have to smile. The effect is enhanced and magnified if you are lucky enough to actually swim in the same waters with a dolphin. Captive and wild dolphin swimming programs have shown healing effects on handicapped and autistic children. Many children come out of the swimming experience more relaxed, happy and communicate verbally and through eye contact.
Considerations
Swimming with dolphin packages are the best way to go with groups of six to 12 people. Swim programs on the same day offer discounted combination prices. Whether it is an indoor park, resort or outdoor ocean program, they all offer a variety of other options such as snorkeling and swimming with other sea mammals. Also, most dolphins live inside resorts, parks and recreation centers and are trained and comfortable being around people. Wild dolphins out in the open waters may be more aggressive and react a little differently in the ocean.
Key Largo
Key Largo is the largest island located in upper Florida keys--between Key West and Miami--and its program is open 365 days a year. Full day dolphin swim workshops include a dolphin swim, snorkel trip to a reef and shows, and costs between $209 and $259 per person as of August 2010. Children ages 5 to 7 must be accompanied by a paid adult. This includes 30 minute shallow and deep water feeding, touching and training with a dolphin. Also, visitors have the opportunity for a dolphin dorsal fin ride.
Florida Keys
In the Florida Keys with Theater of the Sea's Swim with the Dolphin program, the daily swim schedule is 10 a.m., 12:30 p.m. and 3:30 p.m. There is a 20 minute orientation time and 30 minutes of water time. The costs is $175 per person. Call 305-664-2431 for reservations.
Miami
A great half-day of dolphin swim adventure in Downtown Miami/Key Biscayne area will cost $149 to $213 per person as of August 2010. They offer 30 minute shallow water experiences that include touching, feeding and training with a dolphin. This is perfect for non-swimmers because you do not swim with the dolphins on this package selection.
Orlando
Packages in Orlando include their signature 30 minute interactive dolphin session and the highlight opportunity of swimming with a bottlenose dolphin during that time. Prices at Discovery Cove, SeaWorld Orlando, fluctuate depending on the season and availability. Prices start from $199 to $289 per person as of August 2010. Children ages 6 to 12 must be accompanied by a paid adult. To speak to a reservations specialist, call 1-877-557-7404.