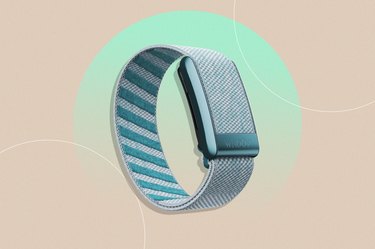 As fitness editors, it's probably no surprise that we love to track our workouts. And personally, as a nerd at heart, I love keeping a close eye on my stats, including my running pace, mileage and heart rate.
But with several injuries and burnout experiences under my belt, I've also come to realize that recovery is just as important as the actual training. That's why I was pretty intrigued when I heard about the Whoop device from our Senior Fitness Editor, Jessica Campbell-Salley.
The Whoop is a fitness and health tracker that measures heart rate and other health metrics to determine how recovered you are on any given day. You can wear on your wrist or bicep, and it connects to the Whoop app on your phone (the strap itself does not have a display). The band tracks your sleep, exercise and heart rate variability (the time between your heartbeats), which is a good indicator of your overall health. You can look closely at your workouts stats, sleep performance or total calorie burn, among other metrics.
When I tried it, I quickly fell in love with my Whoop. Learn more about why LIVESTRONG.com's fitness editors rely on this fitness tracker — and how its changed their workouts and routines.
What's Your Favorite Thing About Whoop?
‌BG:‌ What sets Whoop apart from other fitness wearables is the recovery tracking, and I'd say that's my favorite part or feature. The device takes into account my sleep, exercise and heart rate to find my strain score, which is kind of like my overall exertion level. Then I use this strain score to gauge how hard I want to push myself during my next workout or how early I want to hit the hay.
‌JCS:‌ The biggest thing for me is that consistent wearing of the Whoop helps me be more accountable to myself for daily movement. As editors, we sit and look at our computers most of the day, and it's easy for me to get stuck in a sedentary place. I feel like the Whoop helps remind me that spending time outdoors, even on a 2-mile baby hike, is so much better for my overall health than nothing at all.
How Do You Use Your Whoop Each Day?
‌BG:‌ My Whoop is a big part of my morning ritual. When I wake up, the first thing I do is make a cup of coffee and sit down with my planner and phone. I open up the Whoop app to take a look at my recovery rate and overall sleep. From there, I plan out my training for the day.
I also love using the app during my daily workouts. When you track an activity, the screen displays your current heart rate. A lot of the workouts I do are heart rate–based, so I just leave the app open while I ride or run and keep an eye on how my heart is doing.
‌JCS:‌ I wear my Whoop band almost 24/7 (I will take it off to shower to give my sensitive skin a break) and love that it tracks all the things. I fill out a journal prompt in the Whoop app every morning that asks me questions like how late I ate my last meal and whether I looked at a screened device in bed. The app then calculates my sleep (and other proprietary things) in its algorithm to give my goal strain (or effort) for the day. That helps give me an idea of what workout I should do that day. If I've got a big hike planned the next day, I'll also use Whoop to help me plan my sleep: The app will tell me what time I should go to bed if I need to be up at 5 a.m.
How Has Whoop Helped Improve Your Fitness?
‌BG:‌ Like Jessica, accountability is a big thing for me and the Whoop definitely helps where that's concerned. I recently started triathlon-style training, and as someone who has never really participated in swimming, that has been the biggest challenge. But I love watching myself improve so quickly by tracking my activity. Even just watching my lap time improve by a second or two each swim has been so motivating. Swimming still isn't my ‌favorite‌ activity but my Whoop definitely helps.
Another small note, I actually really love using the Hydrosleeve on top of my strap in the pool to protect the band from getting wet.
‌JCS:‌ When I first got the Whoop I was alarmed at my recovery score and how low it was. I was also pretty fascinated at how bad habits (falling asleep with the TV on, not going to bed at consistent times) really tanked my sleep and thus, my ability to perform in workouts.
It is true that it takes a bit for the Whoop to really adjust to your own personal metrics, but I find after a couple months the recovery score has become a pretty reliable way for me to judge how intense my activity should be that day. And when my recovery score is high, it's so much harder for me to make excuses to get out of activities — that's huge for me personally, a workout procrastinator until the day I die.
What Non-Fitness Metrics Do You Love to Track?
‌BG:‌ Using Whoop actually taught me a lot about working out on my menstrual cycle. I used to dread this time of the month because it meant my workouts had to mellow out. But actually it's really only the first few days of my cycle that affect my performance. I learned my body is actually ‌more‌ resilient to stress during this time of the month. It definitely help me start to change my relationship with my body and a normal process my body goes through each month.
‌JCS:‌ It became apparent pretty quickly that even one glass of wine affects my recovery score the next day. At 31, I just can't hang like I used to. And the alcohol effect is one I've discussed with a lot of people: A 50-something triathlete I know started really limiting her alcohol intake to the occasional celebratory glass of champagne after seeing how badly it affects her recovery score — it's clear that as you get older, your ability to metabolize alcohol starts to just disappear, at least as women (love that for us). Now, I really limit my alcohol to the just weekends, and only if I'm ‌not‌ planning on logging major miles the next day.
Get Your Own Whoop and Start Tracking
It's pretty clear that we absolutely love our Whoop devices. And considering the company works with so many professional athletes and everyday gym-goers, we're certainly not alone.
Plus, the company works with your budget. The band itself comes free when you purchase a membership and you can choose from several options. You can sign up for 24 months at $20 per month, 12 months at $25 per month or a $30 monthly renewal. From there, all you have to do is download the app and start tracking.