Ask a swimmer or swim coach and they'll admit that just like shin guards, running gels and work emails, swim caps are a necessary evil.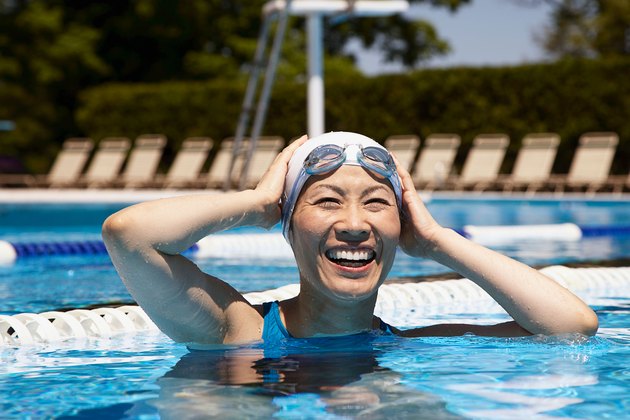 "Swim caps aren't the best-looking sports accessory in the world, but they make a massive difference for competitors," says Carolyn Taylor, a lifeguard and former swimmer at Smith College in Northampton, MA. That, and many indoor pools will make you wear one.
How, exactly, do swim caps offers a competitive advantage? "Caps reduce drag so that the water can slip right over your head and body," says swim instructor Nora Fahlberg. "Without one, your hair creates resistance that slows you down."
But swim caps aren't just for competitive swimmers. Hairstylist Joel Warren, founder of the Salon Project in Boca Raton Florida, says that anyone who steps a foot or flipper into the pool should wear a swim cap.
"The chlorine and saltwater in pools can dry out hair and alter its color," he says. "Plus, if it the hair gets unwieldy and tangled in the water, trying to get the knots out can break the hair strands."
The solution? Wearing a cap. "Caps are the best thing you can do to protect your hair," says Warren.
That said, "swim caps aren't going to keep your hair dry," says Warren. To truly protect your hair, he suggests one more protective measure: wetting your hair with fresh water before you dive in. "This keeps the hair from absorbing chlorine or salt."
The Best Swim Caps
"There are caps available in all different materials, and sometimes you can find ones in different sizes," says Taylor.
Overwhelmed by all the different swim cap styles out there? We asked lifeguards, swim coaches and competitive swimmers to share their favorite swim caps on the market. Read on to find the best swimming cap for your needs.
1. Silicone Cap by Speedo
The Speedo Silicone Cap is a classic. This latex-free cap is stretchy enough to get on and off without your lane buddy's help, but tight enough to stay in place. Even when you dive in at an angle that would usually pull your cap off, this one stays put.
As far as swim caps go, this one is comfortable, and your hair won't snag, tangle or knot as you slip it off post-workout. In fact, "slip off" is exactly how you'll remove it, as opposed to yanking, tugging or wrestling off.
It also comes in every color of the rainbow (except green, oddly enough), and you can splurge on a patterned cap for just a few bucks more.
2. Silicone Long Hair Cap by Speedo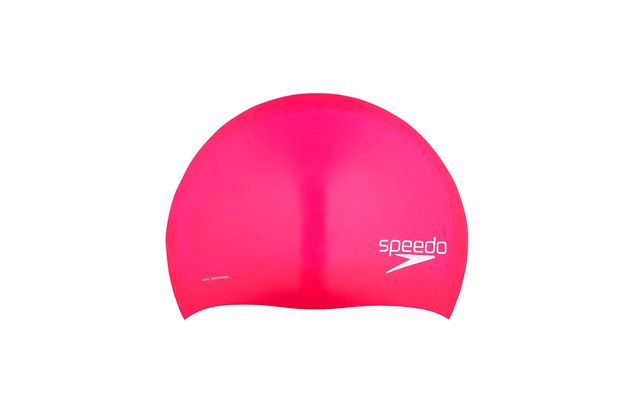 Exactly like it sounds, this cap offers the same benefits as the above cap — latex-free, snag-free — but with extra room for long hair. "This option is awesome for swimmers, like me, who have a real head of hair," says Paige Christie, an open-water marathon swimmer and triathlon coach based in California. It's available in black, grey, white, pink and blue.
Note: If you don't need the extra room, don't get this cap. While you might think the extra room would make it more comfortable, usually it just causes the cap to slip off while you swim.
3.Fastskin Cap by Speedo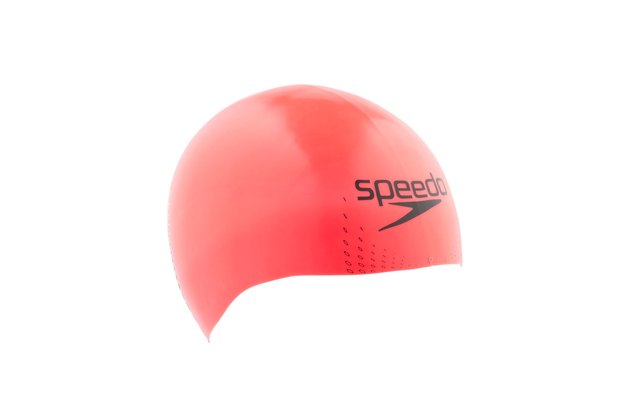 The Fastskin cap was specifically created for racing. It features something called IQfit™ technology, which is fancy-speak for "it was designed with the shape of your head in mind."
Taylor explains: "This technology allows it to be more hydrodynamic than a typical latex or silicone cap." Speedo says you can reduce drag by 5.7 percent if you wear this cap with their Fastskin3 Goggles, which is a lot in the world of competitive swimming.
"You wouldn't wear this cap as a recreational swimmer," says Taylor. "The target audience is competitive swimmers where a tenth of a second or less makes all the difference."
4. Solid Latex Cap by Speedo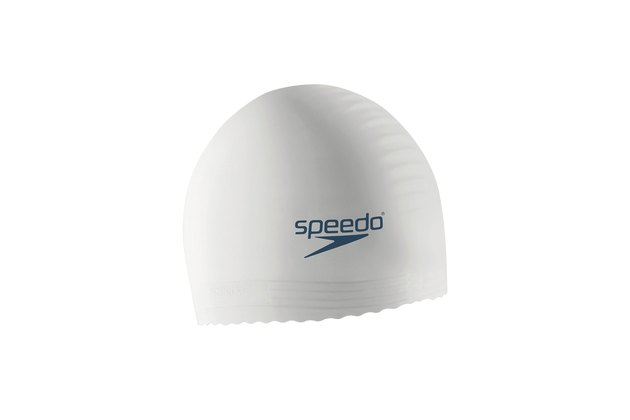 You know how some people like to run in leggings while others like to run in shorts? Similarly, some swimmers prefer latex caps to silicone ones.
"Even when I had shoulder-length hair, I liked latex caps," says Nick Vandermole, former professional triathlete for team USA and assistant coach at Colorado College. Why? Because they're cheap and get the job done, he says.
Expect a latex cap to be stretchier and thinner than a silicone one. But fair warning: Because it's thinner, the second you dive into the water you'll feel the temperature of pool water surrounding your capped-head. When the water's cold, it's kinda like a pool-induced brain-freeze.
The best part about this specific latex cap is it has anti-roll technology that keeps the cap from rolling up when you move.
5. Silicone Comfort Adult Swim Cap by TYR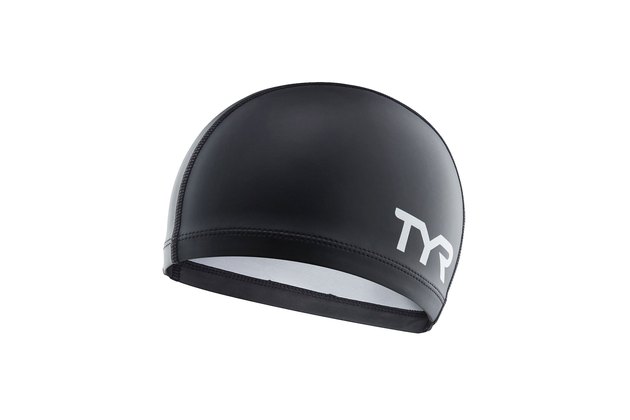 TYR offers three main iterations of the silicone cap: one for comfort, one for competitors and one for race-day. If you identify as a casual lap logger or your pool requires caps, the TYR Silicone Comfort Adult Swim Cap is a smart pick. The cap has a polyester inner lining to help you retain body heat.
6. Competitor Racing Silicone Cap by TYR
As you might expect from a cap that has the word "competitor" in its name, this cap is best for , well, competitive swimmers. Made out of 100 percent silicone, this cap has two main goals: to stay on your head and to reduce drag. It achieves both.
You'll notice that rather than going straight across, the edges of the cap have a wiggly shape. That's because this cap has extended over-the-ear coverage, which keeps your ears from adding extra resistance in the water. As we said, this is a cap for serious swimmers.
7. Lycra Adult Swim Cap by TYR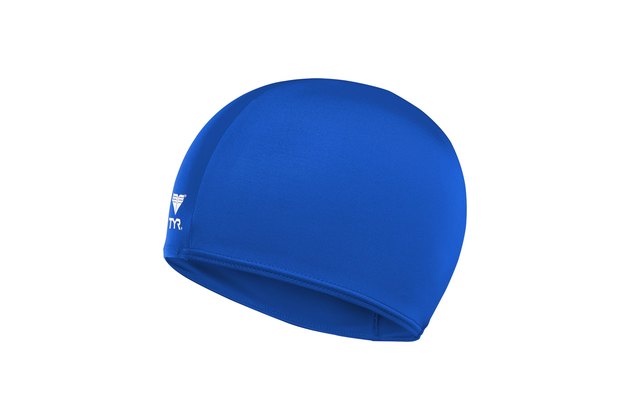 Most swimsuits are made out of lycra, so just like how your stomach gets wet (and potentially cold) when you're in a swimsuit, so will your scalp; lycra is a more permeable material than silicone or latex. Because it won't keep your head warm (at all), this cap is best for swimmers who will be stroking in warmer temps, but it's also very comfortable so it's a great pick if that's indeed your swimming setting.
To be very clear: Competitive swimmers, this is not a good option for you. If you dive or do a flip turn in this cap, it will very likely come off.
8. Mesh Swimming Cap by Nabaiji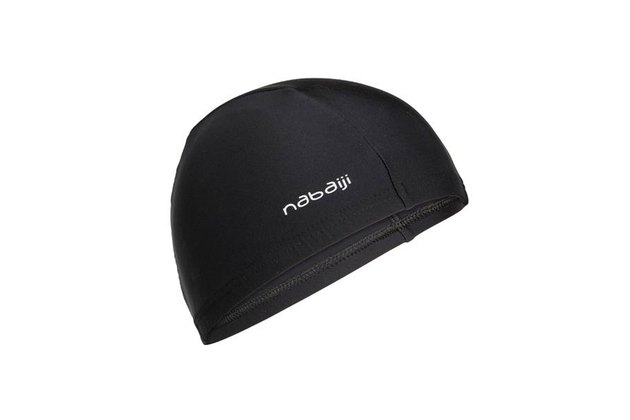 New to swimming? Add this cap to your cart. Made of mesh cloth, this cap is easy to take on and off. And instead of making your head feel like it's in a tight embrace, it'll make you feel like you're wearing an oversized headband.
"For people who need to wear a cap into the pool and don't want something that feels tight on their head, this is an okay option, so long as you're not swimming laps," says Christie. Unfortunately, because this cap is loose, it's probably not going to stay on your head during a swim workout.
9. Floral Bubbles Swim Cap by Sporti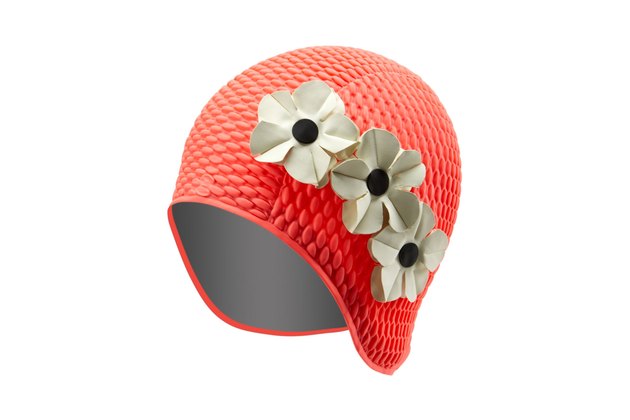 Playfully textured and embellished with flowers, this cap is super fun. But it's also functional: The cap is made of heavy-duty rubber and has three-panel design, so it'll stay in place as you bounce, jump and tread.
Pro tip: Dab some talcum powder on the inside to keep it in tip-top shape.
10. Latex Cap by Nike
This latex pick is lightweight but made of a durable latex that won't rip as easily as other latex options. It also has a grooved inner band that stops the rim from rolling away from your face.
"It's a nice pick for people with longer hair," says Taylor. "The stretchy material can flex around any bun or ponytail."
And at only five bucks, you could buy four different colors for the price of one silicone cap.
11. Optic Camo Swim Cap by Nike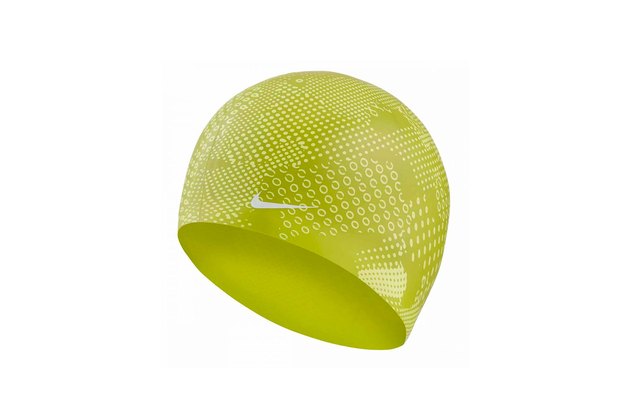 Made from hypoallergenic silicone, this cap won't stick to your hair. But thanks to a textured inner-lining, this patterned cap will still stay in place on your head as your butterfly, breast or backstroke your way across the pool.
12. X-O Swim Cap by Michael Phelps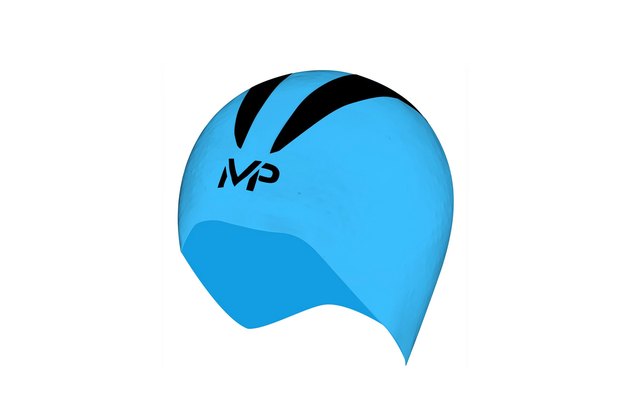 Michael Phelps, as in one of the greatest swimmers of all time, teamed up with his coach Bob Bowman to make a cap for competitive swimmers. This cap has a unique hydrodynamic 3D shape that reduces drag more than the other caps on the list.
Another perk? "It comes in small, medium and large, which is surprisingly rare since not all heads are the same size," says Taylor. The point, of course, is to guarantee an A+ fit.
Plus, this high-tech cap is basically a steal as far as competitive caps go.