If you've ever jumped into a pool and immediately had your goggles slide down your face or fill with water, you know the importance of a good pair of swim specs.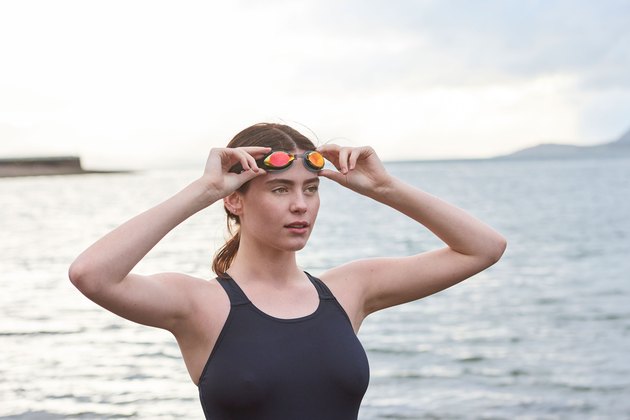 "From a race perspective, it's important to see both the bottom of a pool and your coach on the sidelines," says Paige Christie, an open water marathon swimmer and a private swim and triathlon coach in California. And for beginners, goggle quality often means the difference between feeling comfortable getting into the water and opting to stay on the pool deck.
Goggles are also vital for your overall eye health. "Goggles help protect your eyes from irritants in the water, such as debris, chlorine and salt," says Kent Kirk, a board-certified ophthalmologist with Kirk Eye Center in Illinois. This is even more important in open water (lakes and oceans) since debris, sand and bacteria can make your eyes susceptible to irritation and infection. But pools aren't much better: "Chlorine can be irritating," says Kirk.
Donning goggles is especially important for contact-wearers. "Bacteria and debris can attach to the surface of the contact, which increases the risk of infection," says Kirk.
What to Look For in Swim Goggles
"The most important thing is that your goggles are watertight, because that's how you protect the eye," says Kirk. While competitive swimmers may consider anti-glare or anti-fog goggles to limit visibility issues, these special features aren't a must-have from an eye health perspective.
To help you decide which pair is best for you, we asked coaches, lifeguards and competitive swimmers to share their go-to goggles. Whether you're new to the pool or on your way to becoming the next Katie Ledecky, this expert-backed list has the pair for you.
1. Hydrospex Max by Speedo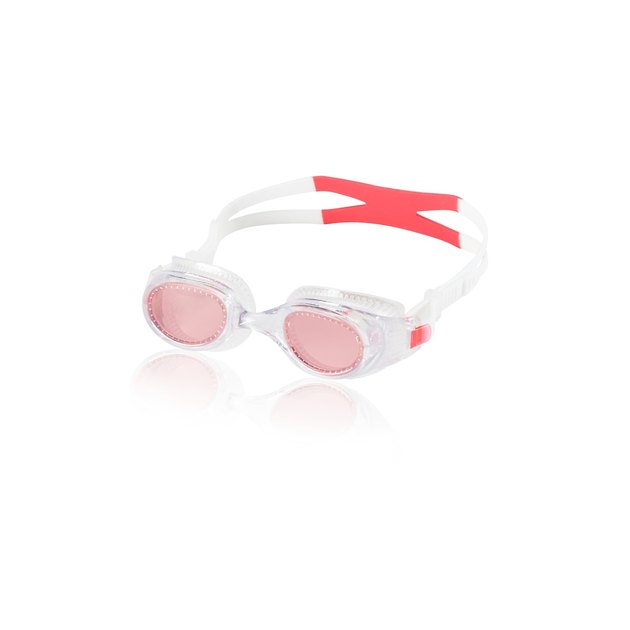 Speedo and swimwear are synonymous, so it shouldn't be surprising that they've got the eyewear corner of the swim market stacked. "Speedo is really, really good — their technology is very advanced," says swim instructor, exercise physiologist and chiropractor Nora Fahlberg. "I appreciate that they have goggles meant for different face and eyes shapes, as well as levels."
The Hydrospex Max is a great pick for more casual swimmers. "They're comfortable and big enough to fit loosely around my eyes while still staying put," says lifeguard and former competitive swimmer Stacy Caprio. "They have great suction."
You wouldn't want to do a lap workout in these, but they're an awesome pick for pool activities like basketball, floating and more casual swimming.
2. Speed Socket 2.0 Goggles by Speedo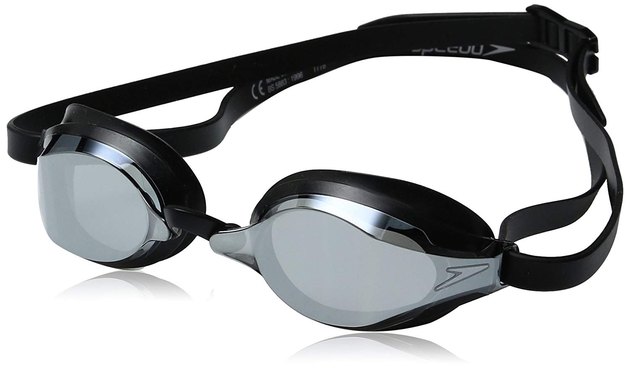 "These are my number one recommendation for swimming laps," says Christie. Why? The Speed Socket 2.0 has a sleek look, low profile inner eye for reduced drag and panoramic lenses that resist fog for clear underwater vision. "They're fast, comfortable, anti-fog, more-or-less worry-free and give you good visibility," she says.
3. Vanquisher EV Mirrored Goggles by Speedo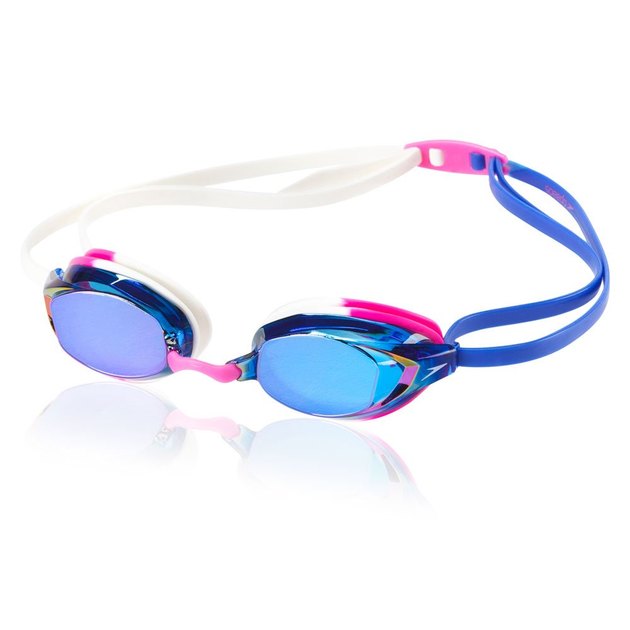 Looking for a pair that's as stylish as it is functional? Speedo makes a pair with mirrored lenses and a 50/50 strap design that comes in fun color schemes like pink/blue, orange/yellow and turquoise/purple. If you're competing, this a great way for your fans and friends to identify you in a sea of similar suits and caps mid-race.
"This is a slightly less competitive goggle than the Speed Socket," says Christie, "But the Vanquisher has an aerodynamic shape that'll keep you speedy." Plus, they're incredibly comfortable, she says.
You can also find them with tinted and non-tinted lenses. "I have them with clear lenses for indoor swimming and tinted lenses for outdoor swimming," says lifeguard and swim coach Elizabeth Casper.
These are also latex-free goggles — so they're a great pick for people with latex allergies and sensitivities.
4. Thermotech Swim Mask by Swimline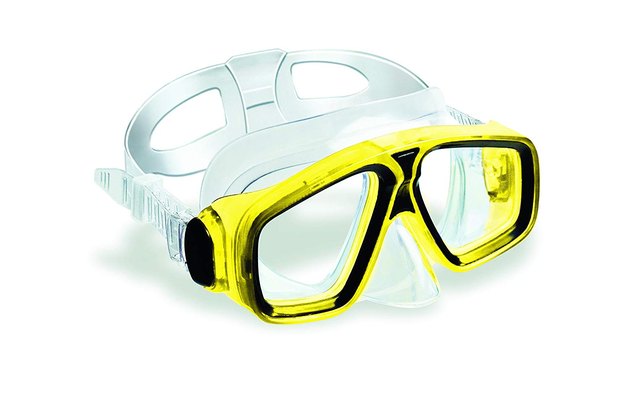 These are an excellent pick for beginners and those afraid of the water. "If you're new to swimming or scared of getting your face wet, I'm a fan of using whatever you need to get in the water," says Fahlberg.
This mask-style pair offers a water-tight seal, a wide field of vision and allows you to put your face in the water without getting water in your nose. "I consider these training wheels," says Fahlberg. "I want people to swim without a nose piece eventually, but these can help you feel more comfortable in the meantime."
5. Remora Competition Goggles by Nike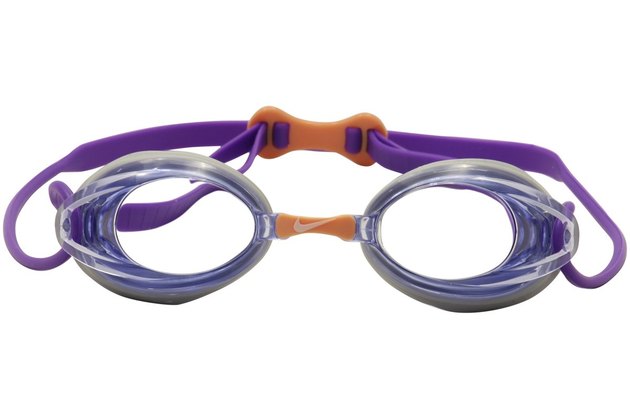 If you need a pair of goggles but want to stay loyal to an athletic company you know and love, Nike's a good bet. "The Remora is a nice semi-competitive option because they have a low profile and non-fog lens," says Carolyn Taylor, a lifeguard and former swimmer at Smith College in Northampton, Massachusetts.
Each pair comes with three different sizes of nose bridges that you can switch in and out to fit your face. They also come in fun colors like volt green, fuchsia and hyper blue, in addition to the classic black and clear.
6. Antifog Swefish Mirrored Goggles by Sporti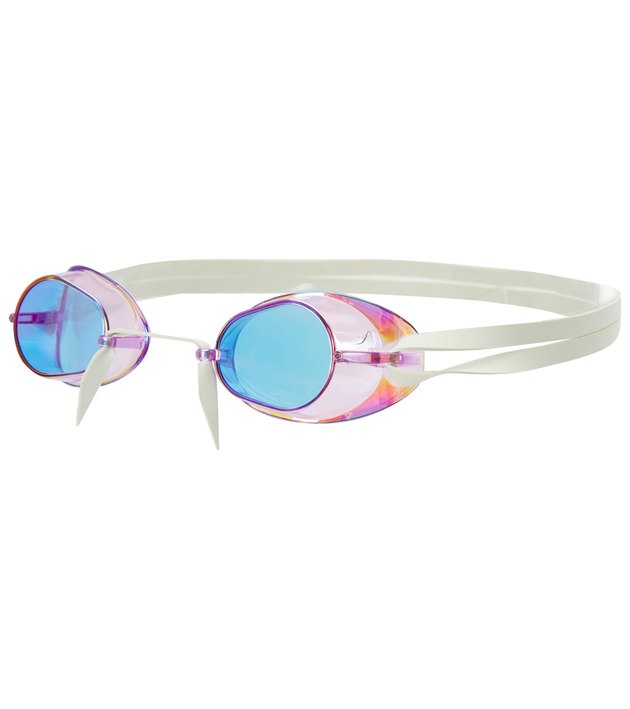 "These are a no-frills kind of goggle that you'll literally need to put together yourself," says Taylor. "But they're inexpensive and the bungee strap can easily be adjusted to fit different head shapes."
Taylor says these goggles have been around forever and most newer editions are different iterations of the classic. The biggest difference between these and the other options on this list is that they don't have a gasket or seal around the eye, which can cause raccoon eyes.
"They're pretty simple, but they're surprisingly popular among competitive swimmers," says Taylor. She credits their popularity to their adjustability. And at $4 a pair, you can't beat the price.
7. Blackhawk Racing Polarized Goggles by TYR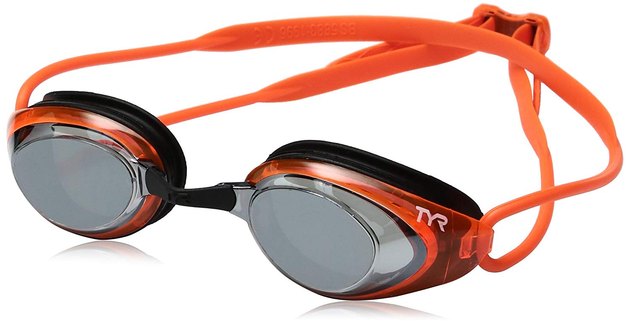 Lots of swimmers gravitate toward the TYR brand. "You'll see a number of Blackhawks on the pool deck during a meet," says Taylor. A non-clunky pick, the Blackhawk has a sleek design that cuts down on drag, so you can move through the water with ease. And the silicone eye-gaskets create a watertight seal.
The Blackhawk also comes with not one, not two, but five(!) removable nose bridges so you can find the perfect fit.
Note: While this pair is polarized, making it a great pick for backstrokers and summertime splashers, TYR does make a less expensive ($20), non-polarized version for other swim strokes and settings.
8. Kayenne Goggles by Aqua Sphere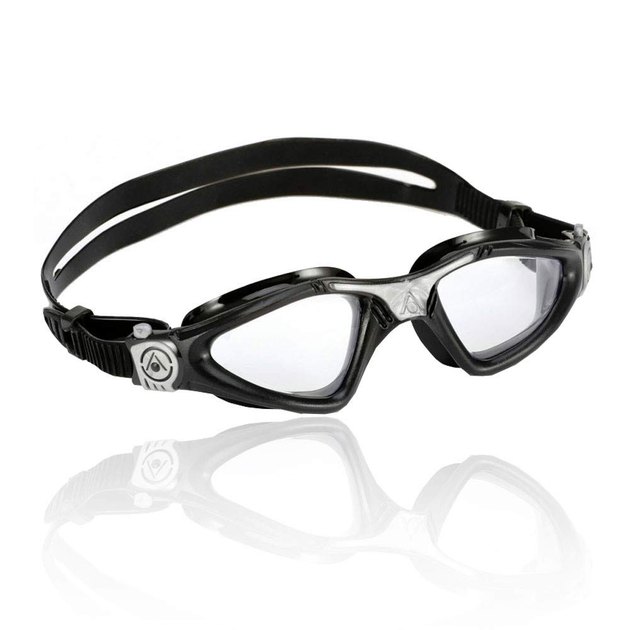 The Kayenne maximizes your vision: Thanks to advanced fit technology, which keeps them suctioned in place, you won't need to stop mid-race to dump water out or figure out where you are in the pecking order.
This also makes them a good pick for lake and ocean swimmers. "They'll absolutely stay in place if you're jumping from a dock or splashing with friends," says Taylor.
The brand offers this model with different lens options: smoke, polarized, clear, blue and mirrored. Think about whether you want darkening from the sun or the clearest vision in the water before you make your purchase.
9. Tracer-X Racing Mirrored Goggles by TYR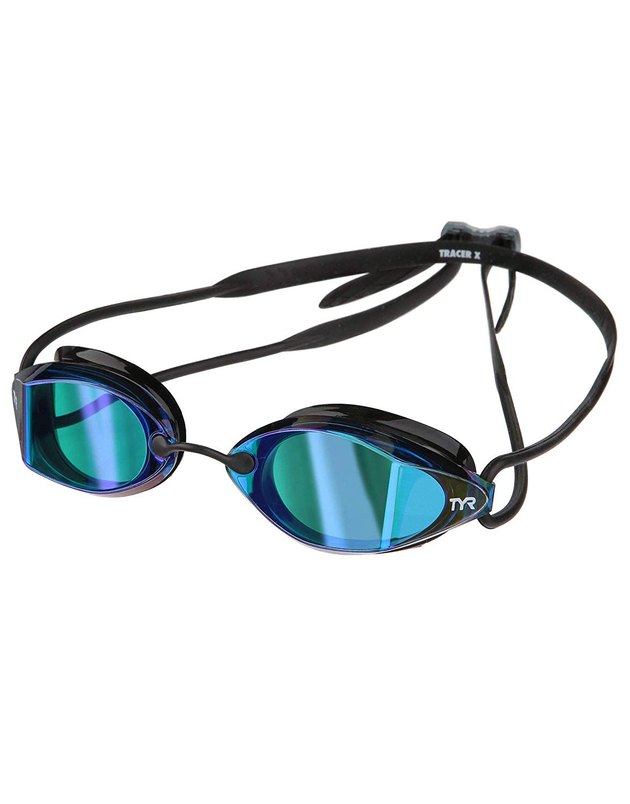 The name should be a tip-off, but these were specifically engineered with elite-level athletes in mind. They have an ultra low-profile, which basically means your eyeball is very close to the lens. Every pair has durable, liquid silicone gaskets that provide a comfortable, watertight seal. And they'll give you a 206-degree peripheral range, which TYR says promises a 15 percent wider field of vision than any other goggle on the market. Taylor says this checks out: "You get a really good field of vision with these."
Just one thing: "Racing goggles aren't to be confused with practice or play goggles," says Taylor. "You don't need a pair this aerodynamic for practice." If you're a competitive swimmer give them a whirl, otherwise scroll back up for more options.
10. MP XCEED Goggles by Micheal Phelps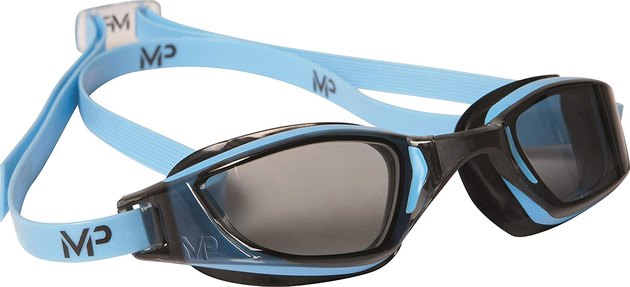 Yes, as in the Michael Phelps. Put this pair on and you'll literally be able to feel how leak-proof they are — the gasket seal is tight — and effective.
"The goggles are going to feel more sturdy on your face than some of the other pairs," says Taylor. That's due to the semi-rigid exoskeleton, which is there to keep them on your face and structurally sound when you're flip-turning and diving at Olympian paces (or trying). If they're good enough for the GOAT, they're good enough for us.