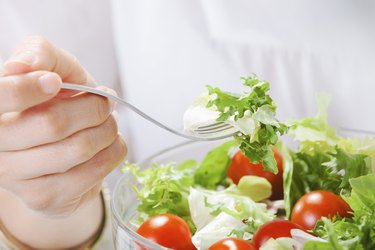 Personalized diet plans are usually purchased from a registered dietician or certified nutritionist. Fortunately, you can find a diet plan at no cost that can be customized to fit your personal needs. In addition, a good meal plan should also take into account your physical activity. Exercise plays a major role in determining how many calories you should consume and burn each day when striving to lose, gain or maintain a specific weight. According to the Mayo Clinic, an effective diet plan will include flexibility, enjoyment, balanced nutrition and a steady pace.
Step 1
Go to free-online-health.com. Free-online-health.com provides account users with a free personalized and detailed meal plan-seven day menu-according to your weight, height, gender, age, fitness goal and preferred foods of choice. Free-online-health's customized meal plan is flexible and can be changed at any time to reflect different food choices. In addition, your meal plan is accompanied with a fitness plan that helps you achieve your goal through a combination of diet and exercise.
Step 2
Scroll midway down the page once you arrive at the homepage until you see Account Login to the left of your screen. Click Register and follow the instructions to set up your online account.
Step 3
Return to the home page and scroll back down to Account Login to enter into your newly created account. Press Login and scroll back up to the top of the home page. Click on DietBook+ from the main menu.
Step 4
Enter your personal data (name, location, gender, birth date, and height) into the form and click save preferences. On the next page, enter your information into the meal planner profile. Specify your primary motivation and foods you would like to exclude from your meal plan. Hit Save.
Step 5
View your seven-day meal plan with the total number of calories, fat, carbohydrates, sugar, salt, cholesterol and saturated fats for each day of the week. Click on the Recipes button to view the recipes for the meals included in your seven-day meal plan.
Step 6
Click on Exercise Planner at the top of the page. You should see a page that displays your weight, BMI, calorie deficit, calorie intake and how many calories you need to use for exercise. Specify how often you plan to exercise, and what type of exercise, to calculate what days and for how long you should exercise to meet your primary goal.
Step 7
Modify your personal data at any time to better fit your needs by clicking on the various menu buttons displayed above your meal planner and exercise planner.
Tip
Always consult a doctor when incorporating a new fitness or weight loss program. Encourage your family and friends to incorporate a healthy meal plan that motivates you and others to eat right and reach personal goals.