Knowing that you should exercise is sometimes just not enough motivation. You hear about it on the news, or even when you turn on your computer. It's true that exercise is an essential part of a healthy lifestyle. But understanding the long-term effects of exercise on the cardiovascular system may help you get, and stay, moving.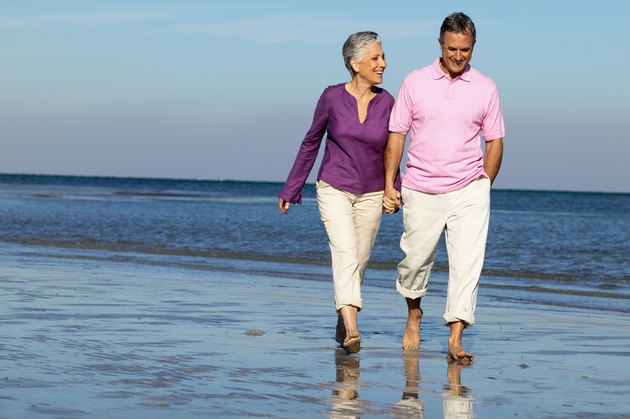 The Cardiovascular System
The cardiovascular system consists of your heart and all of your blood vessels --veins, arteries and capillaries. It is also known as the circulatory system or the blood-vascular system. The role of this system is maintaining homeostasis, or balance. These blood vessels carry blood and nutrients to every tissue and cell in your body. If even one part of the system is unhealthy, it can affect your entire body.
Lower Resting Heart Rate
Your heart has a true full-time, 24-7 job. If it is not strong, you know it and you can't function properly. Every minute, your heart pumps somewhere between about 60 and 100 times, according to the Cleveland Clinic. If your heart beats at 80 beats per minute, it beats 115,200 times in one day. Regular exercise strengthens your heart so it doesn't have to pump as much. Lowering your resting heart rate by even two beats a minute means your heart beats 2,880 times less in just one day.
Improved Stroke Volume
Stroke volume is the amount of blood pumped with each beat of your heart. It is measured in milliliters of blood per beat. Every time your heart beats, blood is ejected from the left ventricle and out into your blood vessels. Each beat pushes that blood throughout your body, carrying oxygen-rich blood to tissues. Regular exercise improves the strength of your heart. This translates into stronger contractions that pump more blood with every beat. Your heart works more efficiently and not as hard as it used to.
Capillary Density and Gas Exchange
Capillaries are the tiny blood vessels that branch off of bigger veins and arteries. They permeate organs and other tissues so that all cells and organs can get the nutrients they need. Over time, regular exercise can increase the number of capillaries you have. This means your body gets more efficient at taking out waste products like carbon dioxide and uses the oxygen-rich blood more effectively. Your body starts to work better at a cellular level, and you are healthier.