If you want a home exercise machine but are working with a tight budget and equally limited space, you might end up with something like a mini stepper -- basically just a metal frame with two pedals and a dial-resistance mechanism. Although this simple, cheap construction necessarily limits the stepper's performance, you can still use it for a decent cardiovascular workout.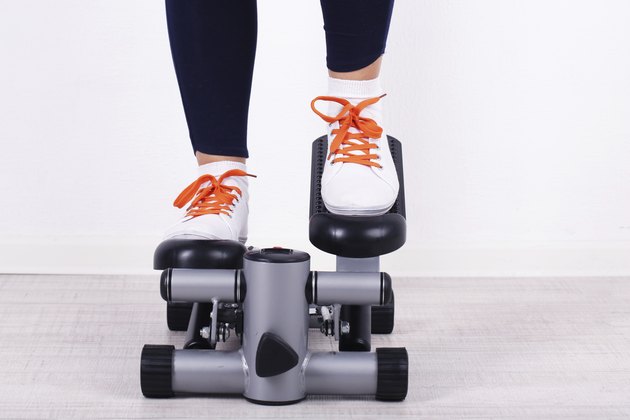 Warm Up First
You should always warm up before using any exercise equipment; the mini stepper is no exception. Five or 10 minutes of gentle stepping, starting out slowly and gradually working up to your usual speed, should do the job.
Make It a Habit
Once you're warmed up, aim for at least 30 minutes of moderate-intensity stepping -- enough to get you slightly out of breath -- five days a week. Mini steppers aren't known for their robust resistance, so you may need to crank the intensity dial pretty high to hit that moderate intensity.
If you're too busy to work out for an entire half hour, split it into three 10-minute chunks: before work, after work and after dinner. And if you can't do the whole 30 minutes at first, just start with whatever you can manage. Then gradually increase the length of your workouts as you build endurance.
Then Cool Down
Wind down at the end of your workout with five to 10 minutes of gentle stepping, just like a warm-up in reverse; it'll give your body a chance to ease back into a state of rest.